Greater Wellington often expresses our views to central government and others on statutory reforms, policies or general matters that affect the outcomes for our region.
Our breadth of expertise and experience; our decades-long partnerships with mana whenua; our strategic stakeholder relationships and our Wellington location means we can identify and describe the priorities of most impact for our region.
Greater Wellington advocates through a variety of ways, through kanohi ki te kanohi (face to face) meetings, sector alliances, correspondence, or through developing Council submissions on government or other councils' policies.
Letters and position statements
Submissions
When developing policy, central government, local councils and other organisations will usually create opportunities for people to contribute their views, to inform policy development and to understand potential consequences of a proposed direction or regulation.
Like other councils, special interest groups or individuals, GW will consider whether a proposed law change or policy is relevant to what we do, and if so, we will develop a submission to reflect our Council view.
Submission to Draft advice to inform the strategic direction of the Government's second emissions reduction plan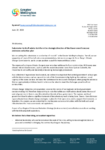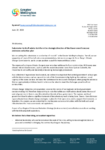 Submission on the Natural and Built Environment Bill
alarm Updated June 30, 2023 at 4:11 PM
---
Get in touch
Phone:

0800 496 734

Email: