Haere mai, welcome to Belmont Regional Park
Location Takapu Valley, Wellington 5010
The breathtaking views and bush-clad valleys of Belmont Regional Park make it a favourite open space for picnics, walking, running, mountain biking and horse riding.
Opening hours
6am till 6pm (1 April - 30 Sept) or 10pm (1 Oct - 31 March)
Activities
Opening hours
6am till 6pm (1 April - 30 Sept) or 10pm (1 Oct - 31 March)
Description
Located in the hill between Porirua and the Hutt Valley, the park features the historic Korokoro Dam, Pareaho Pa, World War II ammunition stores and the original main coach road from Wellington. Climb to the trig at 456 metres above sea level to enjoy sweeping views over Porirua Harbour, the Lower Hutt and the remnants of ancient boulder block fields.
"Our visitors love the wide open spaces and sweeping panoramas. It's like visiting the country just five minutes from the city." Jeremy Paterson, Belmont Ranger
Know before you go
Dogs are w

elcome in the

park

if on a lead. Please pick up droppings. You will find dog bins at

Cornish and Oakleigh Street entrance. Some parts of the park do not allow dogs such as the

farmland, so please adhere to specific dog signage.
Park notices
Covid-19 update
Posted 25/1/22
The Wellington Region moved to the RED setting of the COVID-19 Protection Framework at 11:59pm, Sunday 23 January 2022. Some of our regional parks facilities will require a vaccine pass.
Cornish Street entrance and Rahui Grove entrance closures
Posted 24/12/21
Our friends at Wellington Water are doing some work upgrading sewage pipes at Belmont Regional Park. This means we will need to close the Cornish Street entrance and Rahui Grove entrance from 17 January for three weeks.
We have put a detour in place during this time which includes temporarily crossing a stream via a wet track. Please follow the signage in the park. We thank you for your patience while this work is completed.
Download a map showing the closed entrances
Slip in Belmont Park
Posted 23/12/21
There's been a slip on the track just below baked beans bend in the Korokoro stream area (this is the track from the Korokoro forks up to the Belmont trig) - see where the slip is.
Our rangers have dug a make-shift route through it. A full repair will take place in mid-January. In the meantime, it will not be suitable for a buggy. Please use caution when crossing it, riders should dismount.
Belmont track washout
Posted 15/12/21
The recent rain has caused a deep gauge on the Korokoro track at Belmont Regional Park, just below the Woollen Mills Dam. We will be working a fix over the next week, but please take care when using this track in the meantime.
Download the park brochure
Belmont Regional Park brochure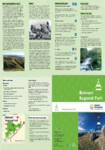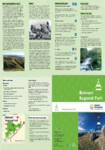 Getting there
Belmont is our largest park and has the most entrances so you can access it from wherever is closest to you.
From Lower Hutt - Park up at Oakleigh Street and walk to experience the beautiful
From Upper Hutt - Dry Creek has a great camping spot
From Korokoro Dam, Porirua - The Cannons Creek entrance provides you walking access to fantastic viewing points over the Transmission Gully motorway construction
---
Get in touch
Phone:

0800496734

Email: