Haere mai, welcome to Kaitoke Regional Park
Location Waterworks Road, SH2, Upper Hutt
Super popular for picnics, camping, swimming and tramping, Kaitoke is one our most visited parks.
Opening hours
6am till 6pm (1 April - 30 Sept) or 9pm (1 Oct - 31 March)
Opening hours
6am till 6pm (1 April - 30 Sept) or 9pm (1 Oct - 31 March)
Description
Take a dip or kayak in the Pākuratahi River or do a day tramp through the lush forest. Want to escape to Middle-Earth? The filming site for Rivendell in Lord of The Rings is just a hop, step and a jump over the bridge from the carpark.
Only 45 minutes north of Wellington City, the spectacular Kaitoke Regional Park covers 2860 hectares in the Tararua Ranges foothills. Steep, bush-clad hills, the Hutt River gorge and centuries-old rata, rimu and beech forest feature in this magnificent natural setting.
Swim in tranquil river pools or explore forest tracks, some suitable for wheelchairs. Dare the suspension bridge, or walk the Ridge Track for wonderful views of the Upper Hutt valley.
Campers can pick a spot near the Pākuratahi River, offering quality facilities with drinking water, toilets, power outlets and electric bbq's. Campfires are permitted at Kaitoke, but only on the riverbed and away from tent sites.
Know before you go
Dogs are welcome but must be under control at all times.
There are 4 public BBQ shelters and toilets in the

camping

area.
The

camping area is large, and there are six powered sites at the campground.
Park notices
Covid-19 update
Posted 25/1/22
The Wellington Region moved to the RED setting of the COVID-19 Protection Framework at 11:59pm, Sunday 23 January 2022. Some of our regional parks facilities will require a vaccine pass.
Covid-19 update. Location of Interest
Posted 13/01/22
The Ministry of Health - Manatū Hauora have identified the Kaitoke Regional Park public toilets at Upper Hutt as a location of interest for where the public may have been exposed to COVID-19.
This occurred between Sunday 9 January 12am and Tuesday 11 January 9am.
If you visited or were camping at this location between the specified times please self-monitor for COVID-19 symptoms for 10 days after you were exposed. If symptoms develop, get a test and stay at home until you get a negative test result.
More information from the Ministry of Health
Staff will be monitoring their health and not working if there are any concerns until a negative COVID test is received.
1080 operation, winter 2022
Posted 10/11/21
Greater Wellington Regional Council (GW) and Wellington Water Limited (WWL) propose to undertake an aerial possum control operation in the Hutt Water Collection Area (HWCA), Kaitoke Regional Park and a small area of the Pākuratahi Forest using the pesticide, sodium fluoroacetate (1080). The operation is proposed to take place during suitable weather conditions in winter 2022.
Weather dependent, aerial baiting begins with the non-toxic pre-feed application, followed by aerial 1080 approximately 5-10 days later.
This may affect some park activities such as hunting. You will be notified about this if you hold a permit for one of these activities.
For more information on this proposed predator control operation, or others in our region, head to our 1080 operations page.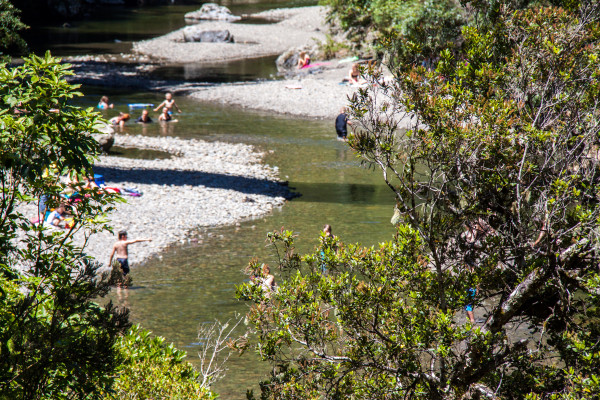 Download the park brochure
Kaitoke Regional Park brochure
Getting there
By car
The park has two main entrances:
Waterworks Road entrance - 12km north of Upper Hutt, turn off SH2 at Waterworks Road. The park entrance is 1km down Waterworks Road.
Te Marua entrance

- 5km north of Upper Hutt, turn off SH2 at Twin Lakes Road, Te Marua.
By public transport
Take the 112 bus from upper Hutt Railway Station to the Te Marua Store at Plateau Road, then walk 1km along SH2 to the Te Marua entrance at Twin Lakes Road.
Plan your journey with Metlink.
---
Get in touch
Phone:

0800496734

Email: