Haere mai, welcome to East Harbour Regional Park
Location Wellington 5013
This park is made up of three separate areas: the Northern Forest, Parangarahu Lakes, and Baring Head Ōrua-pouanui.
Description
Like a jigsaw, East Harbour Regional Park is made up of 3 separate blocks:
The Northern Forest, spanning hills from Eastbourne to Wainuiomata the forest has towering northern rata teeming with wildlife
Parangarahu Lakes, at the south end of Eastbourne and popular mountain biking around the coast to Pencarrow Lighthouse
Baring Head Ōrua-pouanui, accessed from Wainuiomata and offering rugged and remote landscapes with lighthouses and sweeping views of the Cook Strait
"This park has contrasting environments of native forest, waterways, beaches and headlands. If you're new to the area then Butterfly Creek walk is a good way to start exploring." Jo Greenman, Park Ranger
Know before you go
Dogs are welcome in the Northern Forest. They must be on a leash when south of Burdens Gate. No dogs allowed in Baring Head and on Pencarrow Coast Road.
Read these tips to respect the environment, the trail, and other trail users before you visit. The weather can be changeable and extreme on the southern coast so be prepared.
Watch for vehicles on Pencarrow Coast Road and in Baring Head.
No swimming in Lake Kohangapirpiri or Lake Kohangatera. We do not recommend swimming on beaches south of Burdens Gate or in the Cook Strait as the currents are strong.
No quad bikes or trail bikes.
Park notices
Covid-19 update
Posted 25/1/22
The Wellington Region moved to the RED setting of the COVID-19 Protection Framework at 11:59pm, Sunday 23 January 2022. Some of our regional parks facilities will require a vaccine pass.
Replacement of Point Howard stile
Posted 21/1/22
The stile at the top of the Point Howard Track at the junction with the main ridge track is to be replaced with a gate. This work is scheduled to start on Tuesday 26 January and should be finished by Friday 28 January.
There will be some delays - sorry for any inconvenience.
Baring Head Story Hub open
Posted 20/1/22
The Story Hub is situated at the Lighthouse Complex in Baring Head Ōrua-pouanui. It is open from 9am to 5pm - just walk up to the automatic door to enter.
Discover tales of iwi and early settlers, defence history, maritime navigation, NIWA New Zealand and GNS Science work, geology and more about the wider site ecological restoration.
Closure for track improvements, 24 Jan - 4 March
Posted 17/1/22
We are replacing the Mackenzie Track steps between 24 January – 4 March.
This means we will need to close the track during the upgrade in order to make this walk much safer. The track will be closed from the Mackenzie Road entrance to the top of the ridge. Mackenzie Road will also be closed at times during this period and we will keep residents informed directly.
We are sorry about the inconvenience but excited about what an improvement it will be. Thanks for your understanding. The 'before photo' below is for your reference - check back for the after when we're all done!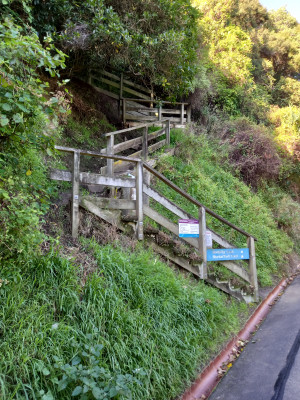 Partial track closure in Parangarahu Lakes
Posted 4/9/20
The boardwalk across the Northern end of Kohungapiripiri will, unfortunately, be closed.
The boardwalk installed in 2006 has been a real asset to the Parangarahu Lakes providing an essential link in the stunning lake circuit. However, moving "swamp" water, mud and actively growing plants have been pushing the hand-driven piles downstream and it is now on the verge of complete failure. The structure is unsafe and must be closed.
Over the last 2 years, several options for repair and replacement have been explored including longer machine-driven piles, a floating pontoon, and a swing bridge. Unfortunately at this time, no satisfactory solution has been found. We will continue to explore options, costs and permissions for linking tracks in this special area.
Download a map of the closed area.
Download the park brochure
East Harbour Regional Park brochure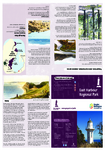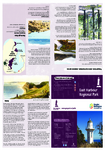 Getting there
Northern Forest - The Northern Forest has a number of entrance points in both Eastbourne and Wainuiomata. If you're planning to use a specific track or trail, take note of the entrance point. Entrances are available in these areas and streets

Parangarahu Lakes area

Baring Head Ōrua-pouanui.
There are entrances at [for which part?]:
Eastbourne: Korohiwa Road (Bus Barn), Kowhai Street, Muritai Road and MacKenzie Road

Days Bay: Williams Park and Ferry Road

York Bay: Kaitawa Roa.

Lowry Bay: Cheviot Road and Dillon Street

Pt Howard: Howard Road and Ngaumatau Road

Wainuiomata Hill Road: Near the lookout. Approach the carpark via Wainuiomata

Wainuiomata: Lees Grove, Fraser Street, Gardiner Grove and Stanley Street
Parking
Some of these streets are narrow with restricted parking.Please be considerate of local residents and do not block driveways and entranceways.
Plan your journey with Metlink.
By ferry
The Northern Forest is accessible by ferry from Wellington City. The East by West ferry departs from Queen's Wharf and lands in Days Bay, passing Matiu Somes Island on the way, making it an easy day trip from the city. [http://eastbywest.co.nz/]
By bus
Take the No. 81 or 83 bus to Marine Parade and Muritai Road (Mon-Sun) or No.'s 82, 84 or 85 (Mon-Fri). If you want to get to the Pencarrow Coast Road, stay on the bus until the last stop on Muritai Road. This stop will put you just five minute walk from the Bike Shed and a 10 minute walk from Burdans Gate.
---
Get in touch
Phone:

0800496734

Email: