Haere mai, welcome to Akatarawa Forest
Location Karapoti Road, Akatarawa Valley, Upper Hutt 5372
This park offers incredible natural beauty and wilderness areas as well as a range of adventure activities.
Opening hours
Parks are always open to foot traffic.
Vehicle gates are open 6am - 6pm in winter, and 6am - 8pm during daylight savings
Opening hours
Parks are always open to foot traffic.
Vehicle gates are open 6am - 6pm in winter, and 6am - 8pm during daylight savings
Description
Explore this rugged blend of native and exotic forest covering 15,000 hectares between Upper Hutt and the Kāpiti Coast. The trails and old logging roads are popular for horse riding, fishing, hunting and tramping and mountain biking. The Forest also has enjoyable and challenging terrain for quad and trail bikes, and 4WD-vehicle club trips.
Know before you go
Watch for notices of logging underway and when parts of the park are closed.
Dogs are welcome in most areas but must be under control. Dogs must be on a lead on the southern portion (Tulsa Park and Zig Zag entrance) of the Cannon Point Walkway as it crosses private land.
Tracks are shared, so keep an eye out for horses, trampers, hunters and dogs
Park notices
Covid-19 update
Posted 25/1/22
The Wellington Region moved to the RED setting of the COVID-19 Protection Framework at 11:59pm, Sunday 23 January 2022. Some of our regional parks facilities will require a vaccine pass.
Karapoti gorge washout
Posted 1/12/21
Karapoti road carpark entrance to Akatarawa forest is now open only to pedestrians, cyclists and two wheel motorbikes. It is not suitable for quad bikes and extra care should be taken when traversing above the washout.
Logging in Valley View Forest
Posted 24/9/21
Logging operations have finished in Cruiser Drive but this area is still closed as road repairs are undertaken over the next month.
Harvesting is now underway in Lindsay's Block at the end of Lindsay's Road and is expected to finish in February 2022.
Clarks Creek Track between Valley View Road and McGhies Bridge will be closed from Monday to Friday 3am – 5pm for recreation, as shown on the map.
Download a map of the operational area
Get your Special Access Permit
Do you need a key for a gate in one of our parks?
Log in to MyGW and apply for a Special Access Permit (not accessible on Internet Explorer).
Download the park brochure
Akatarawa Forest brochure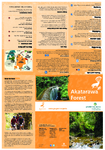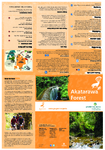 Getting there
There are several entrances to Akatarawa Regional Park north, shown on above map.
By car
From Upper Hutt:
Bridge Road - via Akatarawa Road off SH2
Karapoti Road - via Akatarawa Road off SH2
Road washout notice:
Karapoti Road carpark entrance to the forest is closed to all vehicles due to a road washout and collapse in gorge. We're sorry for any inconvenience caused & thank you for your understanding.
Totara Park - via Tulsa road or valley View Road
From Haywards, SH 58:
Bulls Run Road - via Cook Road off Moonshine road from SH58.
From Pāuatahanui:
Battle Hill Farm Forest Park - via

Paekākāriki

Hill Road off SH58.
Between Paekākāriki and Paraparaumu:
Manungakotukutuku Road - via Waterfall Road off SH1.
By public transport
Take the 111 bus from upper Hutt Railway Station (Mon-Sat) to the Totora Park entrance. Plan your journey with Metlink.
---
Get in touch
Phone:

0800496734

Email: