Hearing Schedule RPS Change 1 Hearing Stream One - General and Overarching - June 2023 - V2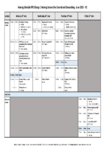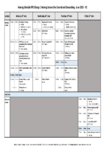 Note:
Timings are subject to change.
The Panels will not be holding a public session on Tuesday the 27th

of June.
Allocated speaking slots include Panel questioning and turnaround times.
The Hearing is being livestreamed and is open to the public.
Hearing Transcripts will be available two weeks after the completion of each Hearing Stream.
Hearing Stream One - General and Overarching Hearing Transcriptions
The transcriptions from Hearing Stream One are now available in the linked PDF here: Transcriptions: Hearing Stream One - General and Overarching - June 2023 (PDF 1.1 MB) (Added 10 July 2023)
Key Documents for Hearing Stream One General and Overarching
Notice of Hearing and S42A Reports (26 May 2023)
Greater Wellington Evidence and Legal Submission (8 June 2023)
Submitter Evidence (Expert and Legal Evidence included) (13 June 2023)
Rebuttal Evidence (21 June 2023)
Hearing Presentations (Posted 28 June 2023/ Updated 30 June 2023)
Right of Reply (Posted 7 July 2023)
---
Get in touch
Phone:

0800 496 734

Email: