Flood Protection has an annual budgeted amount ($20,000) for a contribution/reimbursement for river works that fit within the Isolated Works policy.
Isolated works are privately owned flood or erosion protection works that are constructed outside areas where Greater Wellington manages community flood protection schemes e.g. outside the urban area for the Mangaroa River. The intent of the contribution is to provide a level of service to areas that are not eligible for rate funded community flood protection schemes. Find out more about the scheme areas.
The maximum contribution/reimbursement is set at 30% of the actual completed cost of an eligible isolated work up to a maximum of $20,000 each year. This is for works that have been completed with the correct resource consents and has traditionally been provided on a first in first served basis.
River Management Funding Policy for Isolated Works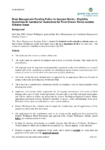 Eligibility Guidelines for Landowner Assistance for River/Stream Works outside Scheme Areas Read more here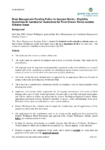 ---
Get in touch
Phone:

0800 496 734

Email: