Have you ever thought about what could be swimming in your local stream? New Zealand is home to more than 50 native freshwater fish species. Of these, around 70% are at risk of, or threatened or at risk of extinction.
The Wellington region is home to at least 20 species of native fish, which makes our region one of the most diverse for freshwater fish in New Zealand. Many of these fish need to migrate between freshwater rivers and streams and the sea to complete their life-cycle. Tuna (eels) and whitebait are well-known examples of native fish that need unimpeded "fish passage" to survive and reproduce.
How can you help?
Keeping informed is one of the best things you can do to help – to find out more please head to the DOC Fish Passage Management information hub.
You can also ensure that any new structures built on your property allow for fish passage. You may need a resource consent for this type of work.
If you have an existing structure that may require fish passage remediation or are seeking to install a new instream structure to allow for fish passage a resource consent may be required.
You can also contact us for fish passage advice or if you would like to notify us of instreams structures on your fish.
More information
The Department of Conservation Fish Passage Management information hub
The NZ fish passage assessment tool and map
Fish passage in the Wellington Region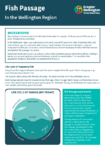 New Zealand is home to more than 50 native freshwater fish species. Of these, around 70% are at risk of, or threatened by, extinction.

In the Wellington region, our waterways are… Read more here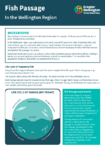 ---
Get in touch
Phone:

0800496734

Email: