Water is one of the most precious taonga in Aotearoa. Not only do our waterways provide drinking water and support for industries such as farming and tourism, but they are also valued for mahinga kai, education, tourism, and ecological health.
We support the changes made by the Government, which aim to prevent further degradation of our waterways in the immediate future, and reverse the damage made to these unique ecosystems in the past. By taking immediate action, we hope to contribute to restoring our waterways to a healthy state over the next generation. We will work towards achieving realistic solutions to implementing the new regulations within our region.
In August 2020 the Government announced changes to the National Policy Statement for Freshwater Management (NPS-FM) for protecting and restoring the health of New Zealand's waterways is a matter of national significance. The new requirements, which came into effect on 3 September 2020, advise local governments on how to fulfil their responsibilities under the Resource Management Act (RMA).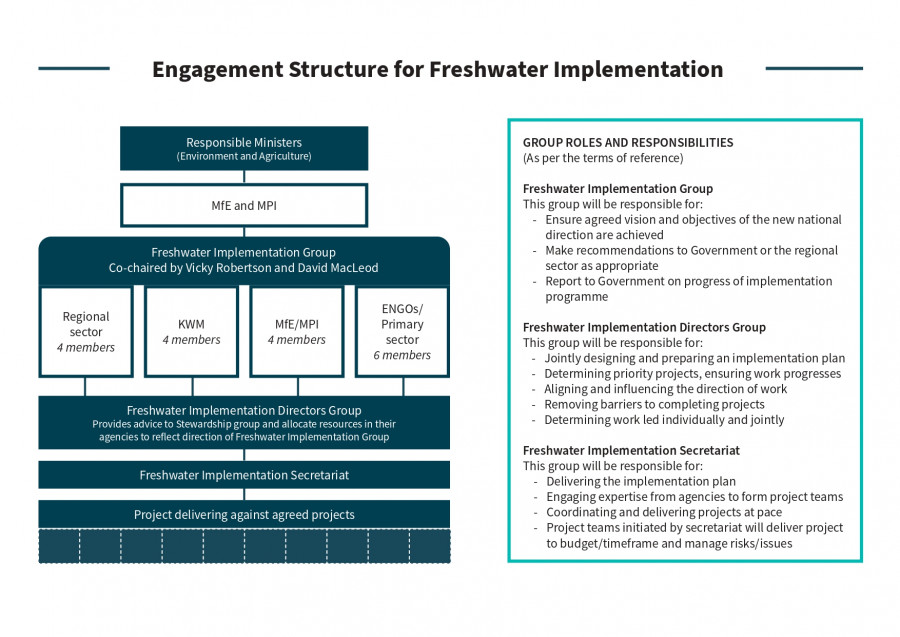 A Freshwater Implementation Group has been established by Environment Minister David Parker and Agriculture Minister Damien O'Connor to oversee the implementation of the new requirements, and ensure this is consistent on a national scale.
Regional implementation
Greater Wellington is responsible for implementing the new regulations, monitoring and compliance within our region. We are working with landowners, affected businesses and other industry groups as these new rules roll out, providing information and support to ensure the changes are understood by our communities.
Our own regional Proposed Natural Resources Plan (PNRP) also safeguards our environment and waterways. The decisions on the PNRP were publicly notified in July 2019, and reflect the specific values of our region's communities.
We know the changes outlined above may be confusing, but we're here to help. We are undertaking a detailed analysis of the new regulations and how they link with our PNRP, and we will be sharing more information in future on what this means for regional implementation.
If you are unsure how these changes affect you, please call 0800 496 734 or email info@gw.govt.nz
Te Mana o te Wai
At the heart of the new regulations around freshwater management is "Te Mana o te Wai", a concept and framework which is derived out of Te Ao Māori. This concept recognises the intrinsic value of New Zealand's freshwater, whose health is integral to the social, cultural, economic and environmental wellbeing of communities.
The Essential Freshwater regulations address tangata whenua values and interests across all well-beings. The new regulations solidify relationships between tangata whenua and councils, and encourage further protection of Māori values.
Immediate actions to stop degradation of our waterways
The Resource Management (National Environment Standards for Freshwater) Regulations 2020 require rapid action to limit some high-risk farming practices. These measures:
Prevent further loss of natural wetlands and streams,
Preserve habitat and passages for fish, and
Address high-risk farming activities including intensive winter grazing, agricultural intensification and nitrogen use.
We will also be making decisions on resource consents including setting clearly defined conditions.
Medium-term changes - farm planning
Many farmers already have and use farm plans. Through an amendment to the RMA, the Government will make it mandatory to have a freshwater module in a farm plan.
This is not required immediately. The exact requirements for the mandatory freshwater module will be developed in the second half of 2022, and will be prioritised in regions and catchments that have the highest need for protection and improvement.
Resource Management (Stock Exclusion) Regulations 2020
The new NPS-FM sets out new regulations around stock exclusion from specified wetlands, lakes, and rivers more than one metre wide.
These new regulations affect dairy farmers and landowners with stock, including beef, dairy and dairy support cattle, deer and pigs.
Intensive Winter Grazing Regulations
The NES-F sets out regulations for Intensive Winter Grazing. These rules apply for the Winter 2023 season.
Intensive winter grazing regulations
Nitrogen use
From 1 July 2021, a cap on the use of synthetic nitrogen fertiliser applies on any contiguous parcel of pastoral land. The cap has been set at 190 kg per hectare per year.
Support to farmers and communities
The Government is supporting changes to improve land-use practices and achieve better freshwater outcomes.
The Ministry for the Environment and the Ministry for Primary Industries have an information sheet that you may find helpful.
The Government has outlined new rules for horticulture farmers as part of the Essential Freshwater regulations.
The summary sheet provides a snapshot of the new requirements, and information on the decision making process.
The Fertiliser Association of New Zealand has developed a Code of Practice for Fertiliser Nutrient Management in conjunction with Regional Councils which can support your fertiliser use decisions.
Support to landowners
Waterways, no matter what shape or size, contribute to the overall water quality in our region.
If you have a waterway on your property, you have an important role to play in the protection of this precious resource.
For more information on the support we offer to landowners, head to our protecting our waterways page.
Additional support
The new regulations will require a change in practice for some farmers. The Ministry for the Environment (MfE) is working to make sure the regulations are practical to implement.
The Environment Minister David Parker and Agriculture Minister Damien O'Connor have signalled some regulations may need to be adjusted as we move forward.
---
Get in touch
Phone:

0800496734

Email: