"The availability and quality of water in our catchment underpins and reflects the health and prosperity of our people. Water is vital to us all, it is a source of life and food, and for iwi it is also central to their identity. We are all connected to it, rely on it, and perhaps take for granted how much it shapes our lives." (Ruamāhanga Whaitua Committee, December 2016)
Ruamāhanga Whaitua Implementation Programme completed
Ruamāhanga Whaitua Implementation Programme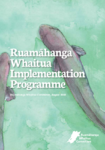 The people of the Wairarapa Valley share a love and respect for the Ruamāhanga whaitua (catchment) and its landforms, tributaries, creeks and wetlands.

The Ruamāhanga Whaitua Committee (the Committee) is made… Read more here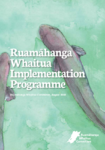 The Ruamāhanga Whaitua Committee spent four years studying the whaitua - understanding the characteristics, its pressures, the cultural, economic, and environmental values residents associate with its waterbodies, and options to support freshwater health that are appropriate to its unique waterways and communities.
The Committee finalised the recommendations that form their Whaitua Implementation Programme (WIP) in July 2018. The WIP describes the ways people from the catchment want to manage their water now and for future generations through a range of integrated tools, policies and strategies. The WIP includes recommendations on managing contaminants, water allocation and river management and sets freshwater objectives and limits for each freshwater management unit (FMU) - the many varied waterbodies that make up the catchment.
The WIP was accepted at a Greater Wellington Council meeting on 16 August 2018. The regulatory recommendations in the WIP will be included in a plan change process and will become a chapter in the Natural Resources Plan. Non-regulatory recommendations will be developed by us alongside the community and relevant external organisations.
Read the latest progress update
Ruamāhanga Whaitua Committee
The Ruamāhanga Whaitua Committee (RWC) was a group of local people tasked with recommending ways to maintain and improve the quality of our fresh water. The committee was established in December 2013 to produce the Whaitua Implementation Programme (WIP). That programme contains recommendations for the integrated management of land and water resources within the catchment, which will be set out in the region's Natural Resources Plan in the future.
The committee was made up of local people who know, live and value the land and water of the Ruamāhanga Whaitua. Download the bios of the Ruamāhanga Whaitua Committee members. (PDF 171 KB)
Following extensive discussions with the community the Committee developed:
Our journey with the community
Knowledge and feedback from the community has played a significant role in the Committee's decision making and has been essential in this process.
Presentations and reports - Learn more about the catchment
You can access all of the presentations and reports provided to the Whaitua Committee and read committee workshop records.
Using knowledge to make sound decisions
Understanding how the catchment works was vital for the Whaitua committee, to support well informed decisions. An innovative process called collaborative modelling was used to bring together independent specialists to show the current state of the catchment and to then test ideas about the impacts of future choices.
---
Get in touch
Phone:

0800496734

Email: