Plan Goal 2: Parks are highly accessible places for many people to enjoy; they offer a variety of interesting experiences, enhancing the health and wellbeing of local communities and broader regional economy.
Toitū Te Whenua has key directions for improving access to and within parks and developing and enhancing facilities for more enjoyable recreation experiences. Every year a parks satisfaction survey is commissioned, and the information gathered helps inform changes or planning work.
The annual parks capital works programme focuses on asset improvements, in particular improving access such as trail or bridge improvements. Other work focuses on improving the resilience of assets through work such as strengthening or trail realignment to reduce erosion.
Some of the significant access improvements to date have included opening all the QEP trails formerly closed for commercial stock grazing purposes, building new more accessible bridges in Wainuiomata, Kaitoke and Akatarawa parks, and installing new easy walk- and ride-through barriers in Belmont and East Harbour Regional Parks. As stock grazing phases out, more areas of parks will become available for dog walking.
What about storytelling in parks?
The very good news is that GW was successful in obtaining a grant (through the Three Waters reform programme) to develop six story telling destinations and trails. The Toitū Te Whenua Storytelling Project will see some great new enhancements over the coming years. This includes developing:
A dark sky museum at Wainuiomata Regional Park (Plan Action A376c and A389)
An easy access trail to enable many people to easily get to and enjoy the interesting Belmont WW2 Bunkers (Plan Action A170h and A174)
A new horse, bike and walking route from QEP to the Hutt Valley via Akatarawa park and Battle Hill which has a working title in the Plan of the 'Akatarawa Traverse' (Plan Action A100c)
A highly accessible sensory trail at Battle Hill (Plan Action A136 and A137)
Storytelling at Parangarahu Lakes with Taranaki Whānui / Port Nicholson Block Trust (Plan Actions A249, A250 and A241c)
QEP Ramaroa building entry hub storytelling and upgrade the wetland loop (Plan Actions A344c and A352)
If you want to be involved in any of these projects, please email parksplanning@gw.govt.nz.
Toitū Te Whenua Storytelling Project
Master planning (more detailed spatial plans) is a key action in the Plan to develop guidance for native vegetation and wetland restoration work and determine recreation facilities in the grazed areas of parks. This will involve working closely alongside mana whenua, park stakeholders and local communities. The master planning process will involve public consultation. Master plan maps will be added to the parks plan as they are developed.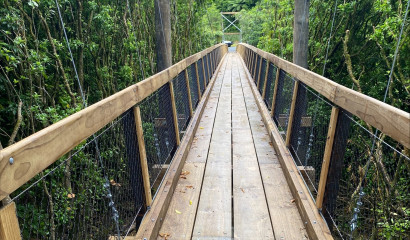 This is the new accessible bridge at Wainuiomata Regional Park. You can do a circuit walk with the Gums Loop and the access road but miss the Lower Dam heritage hub and wetland.
The QEP WW2 storytelling by the US Marines Trust is about Camp Paekākāriki at the southern end of the park.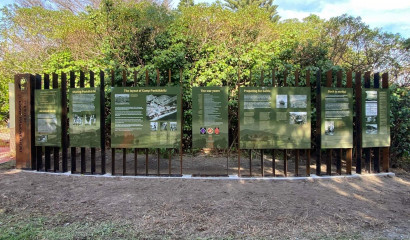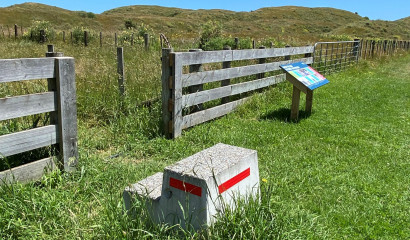 To make getting on and off horses easier, mounting blocks for horse riders have been installed in QEP and will be progressively added in other key riding destinations.
Improving access to and within parks is a focus of work to support more enjoyable experiences. These easy access barriers help reduce unwanted stock and motorbike entry while allowing easy access for everyone else.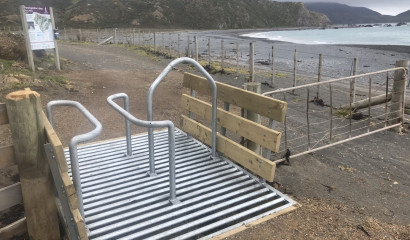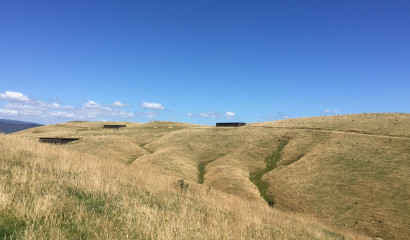 Developing the Belmont Bunkers easy access trail is part of the Parks Storytelling project.
---
Get in touch
Phone:

0800 496 734

Email: