News
Waiwhetu catchment to benefit from flood warning pilot project
Published Date

25 Jan 2019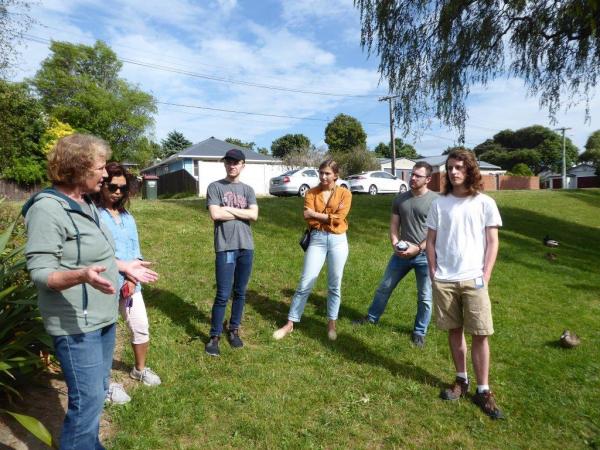 Communication is key when flooding is imminent, and four American students are in Lower Hutt working on the vital task of ensuring timely flood warnings get through to affected communities, focusing on neighbourhoods around the Waiwhetu Stream.
The students, from Worcester Polytechnic Institute in Massachusetts, are working with Greater Wellington and Wellington Region Emergency Management Office (WREMO) on the pilot project, which is designed to improve local flood warning systems.
Central to its approach is listening to the community's views on its perception of the likelihood of flooding, the effectiveness of current warning systems and the best ways to make effective contact in the event of dangerously high flood levels.
The students have developed a survey, which they will use face-to-face from today [25 January] in the neighbourhood and make available online. Sessions will also be held with focus groups and results will be compared with overseas research.
"We want to know what kind of information community members want to receive and how best it can be delivered to them in an environment where many more communications channels are now available. The approach we take needs to mirror how people today access information," says Alistair Allan, Team Leader Flood Management at Greater Wellington.
The survey will also be used to establish levels of flood preparedness among people in the Waiwhetu community.
The students will then present their recommendations and work with Greater Wellington, Wellington Water, GNS Science and MetService to come up with a suitable system design to be in place by June.
"We work around the region with communities to design how floods are managed. Rather than applying a 'one size fits all' approach, we want to make sure communities develop approaches that work for them which we can support," says Alistair Allan.
"It's important that people get flood warnings in good time so they can protect their property or self-evacuate in an emergency. In catchments like the Waiwhetu where flooding can happen very fast this is especially important."
The last major flood in the area was in 2004.
---
Get in touch
Phone:

0800 496 734

Email: