News
Rockline installation designed to protect SH2 and the Hutt River Trail
Published Date

05 Mar 2019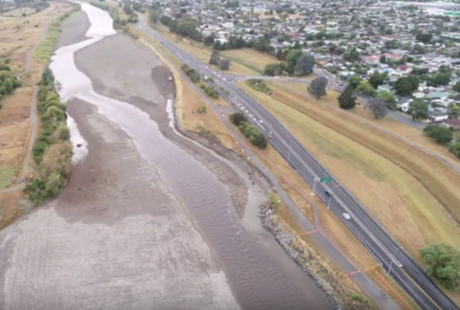 Greater Wellington Regional Council is installing rock protection along the Te Awa Kairangi/Hutt River to repair and prevent the erosion of riverbanks near Gibbons Street in Upper Hutt.
The work is required to ensure recreational activity and commercial traffic can continue to operate during high river flows. In late June and July 2018 significant rainfall caused a washout of the river berm, the adjacent Hutt River Trail and SH2 oversized truck bypass.
Use of the area is currently constrained due to the risk of erosion along the riverbank which, if not managed, will put SH2 and nearby flood protection infrastructure at risk.
Greater Wellington is working with the New Zealand Transport Agency on the project, which comprises a new 125-metre rockline (large rock boulders placed against a riverbank) and the rebuilding of an existing 80-metre rockline.
The work is expected to be completed by early May, and Greater Wellington will try to avoid operations taking place outside 7am - 7pm Monday to Saturday and on Sundays and public holidays.
"Construction and rebuilding work will cause temporary inconvenience, and disturbed sediment will make the river water appear discoloured for a short period, but there will be hardly any impact on the natural environment," says Colin Munn, Greater Wellington Flood Protection Team Leader, Operations, Delivery & Planning.
"Ecological monitoring of the project is continuing to ensure effects on habitats are minimised during the flood protection works. Monitoring covers physical habitat, water quality, suspended sediment, and habitat mapping and fish communities.
"No nesting birds have been found at the site, work is being done outside native fish migration and spawning periods and no impact is likely on lizard populations as the proposed work does not affect their habitat in river terrace manuka, kanuka scrub, native grassland, scree or border fields."
---
Get in touch
Phone:

0800 496 734

Email: