News
Metlink staff prepare for emergencies
Published Date

06 Sep 2019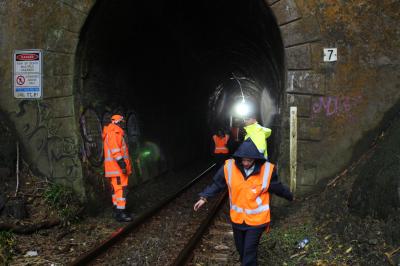 Metlink carries out simulation exercise training on how to respond in the case of an emergency.
Six train services were replaced by buses on the Johnsonville Line on Thursday between 10am and 1pm in order for Metlink to carry out an emergency simulation exercise.
Locomotive Engineers, Passenger Operators, Train Managers and more got to practice how to respond during an emergency situation.
The scenario was that a passenger train stopped in Tunnel 7, near Raroa Station, after a truck hit the overhead power, cutting off the train's power.
Murray Marshall, Operations Standards Specialist from Transdev (who operate services on behalf of Metlink), says it is important for on-board personnel to practice emergency situations and how to deal with distressed passengers.
"When a train is stopped in an emergency situation there can be a number of passengers on-board who may have difficulties including impaired eyesight, mobility issues and anxiety.
"There can also be people with babies or young children who would find this a stressful situation to be in, which is why it is important for our staff members to learn about the best procedures to follow," Murray says.
On-board personnel members practiced making announcements, caring for people with ailments or anxiety, ushering people off the train and getting them safely to the nearest station platform.
---
Get in touch
Phone:

0800 496 734

Email: