News
Local school awarded for getting active
Published Date

29 May 2019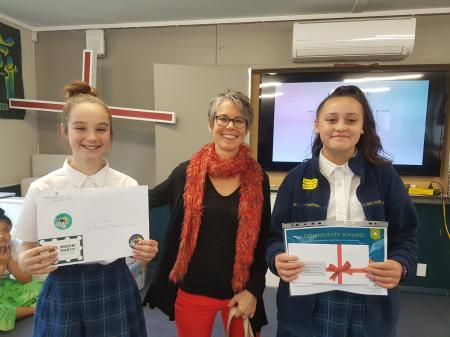 St Claudine Thevenet School students Georgia O'Grady (left) and Canon Hakaraia with Greater Wellington Travel Choice Coordinator Kirsty Barr
St Claudine Thevenet School scooped up a prize for the highest participation rate in the Hutt City district for Movin'March which encourages kids to walk, cycle and scoot to school.
Students recorded 2930 trips, winning a $100 Prezzy card last Friday for their efforts in the Greater Wellington Regional Council run initiative.
Creative student Lily Casley also took home a $30 Warehouse Stationary voucher for winning the district Art Challenge for Hutt City.
Lead teacher Georgia O'Grady says a key component to the success of the active month was the passport competition.
"This really hooked the students in and got everyone enthusiastic. It is also tied in with other work we are doing at the school around Stewardship or Kaitiaki and how what we do impacts the environment.
"It made us have a conversation around active travel which was great, we had whole families biking to school or excited about walking home."
Greater Wellington Travel Choice Coordinator Kirsty Barr, along with Hutt City Council's School Travel Planner Sherie Wright, gave out the prizes.
"The senior students wrote to Greater Wellington Movin'March organisers to thank us for organising the campaign, and to share some of their travel stories.
"We went to the school's assembly to hand both the art prize to Lily and the participation rate prize to Canon Hakaraia who is the Year 8 Sports Captain," Kirsty says.
A spot prize draw of all letter-writers resulted in 20 students receiving Movin'March book bags.
"Being a 'Bikes in Schools' school St Claudine Thevenet has lots of ways for students to get active," Kirsty says.
Greater Wellington councillor Prue Lamason says the initiative was a great success in getting children active for the month of March.
"This has been fantastic encouragement for children to continue sustainable travel throughout the year. It's great to see students be rewarded for exercising while, at the same time, thinking about climate change," Cr Lamason says.
---
Get in touch
Phone:

0800 496 734

Email: