News
Hinds Point Navigation Tower officially opens
Published Date

09 Oct 2019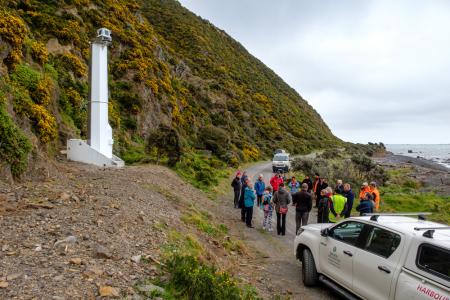 The brand new Hinds Point Navigation Tower officially opened today with a ceremony celebrating the area's first installation of this type in 73 years.
Greater Wellington Regional Council Harbour Master Grant Nalder says the six metre high tower provides the new leading light along the Eastbourne Coast.
"It was designed, after discussions with CentrePort, to help all ships safely navigate their exit from Wellington Harbour. This light replaces an informal landmark used by pilots on outbound shipping and the Master's on ferries."
There are around 13,000 shipping movements annually in the harbour and this number is continuing to grow, with the ships also increasing in size, Grant explains.
"Navigation lights are essential to safety management and working in conjunction with modern electronic systems. This light gives further reassurance for vessels leaving the harbour by providing a visible point which will the guide them onto established navigation routes."
The tower is coloured white on its seaward side to make sure it is visible as a day marker against the hillside.
"The light is also sustainable. The power comes from a solar-powered LED light which is visible from sea, a few degrees either side of the 168 degree outward bound track," Grant says.
The planning involved in this project, including design, location surveying and resource consent, started two years ago and the tower was erected on September 18.
Outgoing Greater Wellington Chair Chris Laidlaw thanked all those who attended today's opening ceremony and those involved in the design and construction with a special shout out to project manager, Greater Wellington Harbour Ranger John Tattersall.
---
Get in touch
Phone:

0800 496 734

Email: