News
Farmers invest in dung beetles
Published Date

28 Jan 2019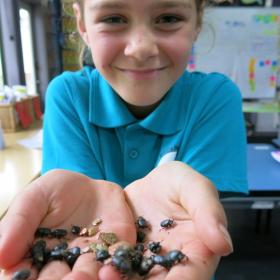 Farmers have responded positively to Greater Wellington-subsidised packages of dung beetles with strong uptake resulting in around 200 dung beetle colonies now active, primarily in Wairarapa.
Forty-one farming operations have invested in dung beetles because they deliver on-farm environmental and economic benefits from natural management of animal waste deposited in paddocks.
"We're pleased that farmers see eye-to eye with us on the benefits the release of dung beetles offers, and that they are willing to invest to realise them," says Greater Wellington Land Management Advisor Kolja Schaller.
"Farmers are making a commitment to innovation which we believe will start paying off in around five years as the beetles spread throughout their farms, remove dung and improve farming conditions."
Contamination of pasture by dung reduces the amount of forage available for grazing, and has other economic, environmental, ecological and social effects, such as pollution of waterways. Introducing dung beetles to deal with pastoral dung provides an opportunity to help mitigate risks to freshwater quality.
Greater Wellington's offer of discounted beetle packages is focussed on properties along the eastern shore of super-trophic Lake Wairarapa, where the lake contains high levels of nitrates and other pollutants, some of which leach into the water from dung. The result is very low water quality in the lake and its surrounding wetlands, conditions Greater Wellington wants to reverse.
"We will introduce measures that will show whether the beetles are spreading, whether we're witnessing a reduction in dung, and whether other benefits are being realised. We'll work with Lake Wairarapa farmers to plan a monitoring regime covering the next few years."
It is planned to have the majority of the Dung Beetles released in an area along the eastern lake shore of Lake Wairarapa in partnership with catchment farmers, however a small number may be released outside of this area if required. To date, thirty-seven farmers from outside the catchment have registered an expression of interest.
---
Get in touch
Phone:

0800 496 734

Email: