News
Big prizes for little movers
Published Date

23 May 2019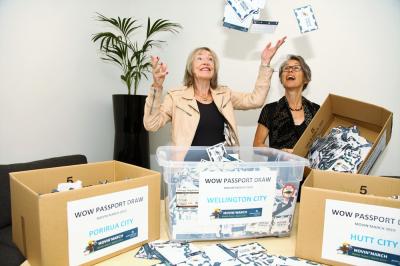 Lucky winners of $300 Avanti prizes drawn by selected by Greater Wellington's Sustainable Transport Committee Chair Barbara Donaldson (left) and Travel Choice Coordinator Kirsty Barr
Names have been drawn and winners have been announced for a month-long initiative that encouraged students to walk, cycle and scoot to school.
Across the Wellington region 125 schools participated in Movin'March 2019, involving over 33,000 students.
Greater Wellington Sustainable Transport Committee Chair Barbara Donaldson drew the names of six lucky winners of $300 Avanti 'My Ride' prizes recently.
"This was a draw from all the entries we received throughout Movin'March and winners from each district were randomly selected. To enter this competition children had to complete travel cards where they received stamps for using sustainable ways of getting to school.
"The winners were drawn from thousands of entries from children who got active for the month of March – this year there were 105,798 walk and wheel trips logged," Cr Donaldson says.
There was also an art challenge as part of this initiative where 15 district winners received $30 Warehouse Stationary vouchers and three regional winners received $100 Prezzy card vouchers.
Greater Wellington Travel Choice Coordinator Kirsty Barr says the level of participation in this year's initiative was incredible.
"It is inspiring to see so many children being enthusiastic about sustainable travel and how they can help the environment through their travel choices.
"We had a 37 per cent increase in how many schools participated this year compared to last year and an amazing 78 per cent increase on the number of trips recorded.
"It's great to see these kids getting some well-deserved prizes and I'm excited to see participation levels grow even more in 2020," Kirsty says.
---
Get in touch
Phone:

0800 496 734

Email: