Event details
View all upcoming events
Date

9:00AM

Sunday 16th July 2023

Location

Parangarahu Lakes, Pencarrow, 509 Muritai Road, Muritai, Lower Hutt

Duration

6 hours

Cost

Free
All Tags
Did you know there are two nationally significant and breath-taking lakes hidden in East Harbour Regional Park?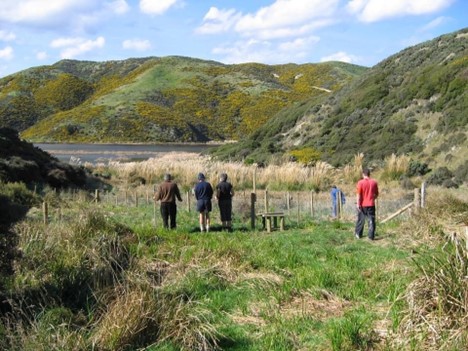 These lakes are particularly important to the surrounding environment and are home to native taonga. This includes a range of wetland plants, īnanga (galaxias maculatus), manu (birds), and our native freshwater mussel, the kākahi.
Join us for a day of planting mingimingi, ake ake, and other native species along the top of Cameron Ridge with spectacular views over Roto Kohangatera and the South Island. With Pencarrow Lighthouse and Roto Parangarahu nearby, you'll enjoy a day planting and exploring this beautiful area of the park.
This planting day is suitable for people with a medium level of fitness as you will need to carry plants and dig holes. The area being planted is a short 20-minute walk from the bus up to the planting area. This is not suitable for children and recommended for 13 years and above. There will be a toilet provided during the planting. No dogs are allowed in this park.
We provide: FREE transport from Burdan's Gate, Eastbourne, along the rugged coast to the Lower Pencarrow Lighthouse at the harbour entrance and onto the entrance of the first lake. Please book your seat as we have limited numbers. No private cars will have access to this road. An experienced team leader, tools, gloves, health and safety management and training will be available. Meet us just past the Bus Barn at the public toilets 509 Muritai Road, Eastbourne.
What to bring/wear: Sturdy boots or gumboots, long sleeves and pants, and a waterproof jacket are essential. Layering and wearing a hat or beanie is a good way to stay warm. This site can be very exposed, so it is a good idea to bring a spare change of clothes. Feel free to bring your own favourite spade and gloves. Bring your own water bottle, lunch, and snacks.
Weather: This event is weather dependent. We will update all those that have registered at the link above via email before 6pm on 15th July. To keep updated with essential information about our events, including postponements and cancellations, please click 'interested' on this Facebook event page.
Getting there: East Harbour Regional Park on Google Maps
Bookings are essential to secure your seat on the bus. Register here