News
Upper Hutt's Cannon Point walkway open to the public
Published Date

31 Jul 2018
People looking to walk Upper Hutt's Cannon Point Walkway can now do so following the re-opening to the public of its zig zag access section following its closure in December last year.
"We're really glad it's once again open the public, it gives yet another beautiful option for keen walkers, runners and cyclists and one more reason to get out among our lovely regional parks and forests," says Greater Wellington Regional Council Principal Ranger (Eastern), Jimmy Young.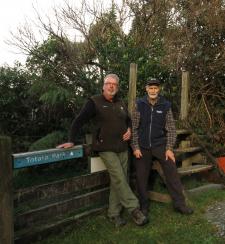 One of Upper Hutt's most popular bush tracks, the 10 km long Cannon Point Walkway is a moderately demanding walk on a well formed track in the hills to the west of Upper Hutt which passes through private land and Greater Wellington's Akatarawa forest. Highlights include native bush and the historic Birchville Reservoir. The track starts from the Upper Hutt City Council managed Tulsa Park and heads up the hill via the zig zag to the trig, where there are stunning views of Upper Hutt.
The previously closed zig zag access section of the track is 1.7 km long and a favourite with walkers and mountain bikers. The owner of the land through which the zig zag passes, Martin Bradley, says he was extremely sorry for having to temporarily close the track to sort out legal issues but he's now "thrilled its open to the public again."
The track is one of the main walking access routes to Akatarawa Forest, which contains an extensive network of walking and mountain biking tracks and old logging roads. Many of the logging roads were formed over 60 years ago and may be overgrown. They are used daily for management purposes, and have restricted public access during operational hours. Track users should take note and respect all signage as some of the walk is on private land.
"No dogs are allowed due to farming and people should also watch out for vehicles and mountain bikers, although with 15,000 hectares there is plenty of room for everyone," says Jimmy Young.
Photo caption: Martin (right) and our Park Ranger Thane are pictured at the top of the walkway.
ENDS
---
Get in touch
Phone:

0800 496 734

Email: