News
Stay safe in regional parks during log harvesting
Published Date

12 Oct 2018
People have been idly standing underneath industrial log hauler cables in Maymorn plantation forest during intensive harvesting operations despite the extensive signage warning them to keep out, seemingly heedless of the risk they take of being harvested themselves and losing life and limb in the process.
"The public's risky behaviour is of immense concern to us," says Greater Wellington Principal Ranger (East) Jimmy Young. "Anyone can make a mistake but the behaviour we see is often deliberate and reckless.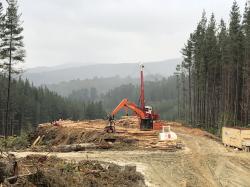 "Log harvesting is a serious business that's safe for a trained expert forestry operator like PF Olsen but isn't for the public. Pushing past 'keep out' and 'road closed' signs is an invitation to injury which puts everyone at risk and can end very badly.
"I'm really glad that the quick-witted logging crew intercepted a visitor recently and ensured she remained out of harm's way.
"So we are urging people to take heed of the warning signs and stay safe during logging operations."
The Maymorn pine forest is part of the larger Pakuratahi Forest on the west side of the Remutaka Ranges north of Upper Hutt. The land is owned and managed by Greater Wellington.
Since July 2018 PF Olsen Ltd has been harvesting a 48ha block of mature trees around Maymorn, the operation will continue through to Christmas.
Steps have been taken to ensure safety and part-access to the forest during the harvesting. Visitors should make themselves aware of the changes, plan their trip, and take extra care in the local area.
Harvesting hours are 8am-5pm, Monday - Friday, during which logging trucks will be on the roads. The Tunnel Gully Recreation Area is not affected.
"Our suggestion is that people should enter Tunnel Gully via Plateau Rd at any time, or give Maymorn Forest a miss for now and enjoy our other great parks in the region," says Jimmy Young.
ENDS
For more information: Greater Wellington media Phone 021 914 266
---
Get in touch
Phone:

0800 496 734

Email: