News
Greater Wellington moves to the sounds of silence
Published Date

24 Jul 2018
They're whisper quiet, the stealth bombers of the pest management world designed to spring a nasty surprise on the critters that daily degrade our environment and undermine our biodiversity.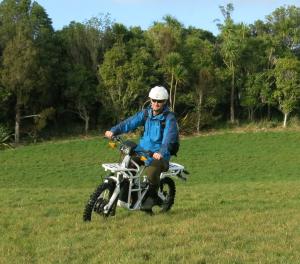 Greater Wellington Regional Council's two new UBCO 2X2 electric farm bikes are providing the perfect platform for night shooting possum, rabbits and hares, giving shooters the advantage of near silence during pest eradication. By day the team uses the bikes to hit the tracks in pursuit of possum, rats and stoats.
"The main appeal of electric bikes is they are silent, making them brilliant for night shooting," says Greater Wellington Team Leader, Pest Animals, Glen Falconer.
"Because they are light and manoeuvrable they also get us through tight tracks into tough country, so we can now cover more ground, control more pests and protect land you can't get to on regular bulky motorbikes.
"So we can be more efficient as walking takes up a lot of our time. The bikes will also be used to get around when servicing bait stations and traps, surveying animal populations, checking tracks and controlling pest plants throughout the region."
The outcome is greater operational efficiency and a welcome further addition to Greater Wellington's fleet of environmentally friendly electric vehicles.
The 2018 2x2 dual-use bikes each weigh 63kg, roughly half the weight of the previous petrol models used by the biosecurity team. Two 1 Kilowatt peak brushless DC, air cooled hub, Flux Drive motors offer dual electric drive and are whisper quiet, meaning the teams can carry out pest management without disturbing wildlife.
There is no clutch or drive-train, no emissions, and no noise. The bikes are an environmentally friendly option for Greater Wellington. The Portage Battery System on board can power devices and tools while in transit. The team can also connect to the bikes digitally through the new UBCO user app. They have been tested out in the field and performed very well while carrying heavy loads, and over all terrain.
Greater Wellington's innovative adoption of the eco-friendly bikes complements the theme of this year's Biosecurity Week (23-29 July) which is "shining the light on innovation", and illuminates some of the vital work Greater Wellington has been involved in but which is often unknown by the public.
The public are also invited to take part in a competition running through the Greater Wellington Facebook page. Each day a question is being posted on Greater Wellington's Facebook page, related to biosecurity. Answers can be left in a comment on the Facebook post or emailed to engage@gw.govt.nz with a deadline of 5pm Friday 27 July. All correct answers will be entered into a draw and five people will be selected at random and notified on Monday 30 July.
ENDS
Greater Wellington Biosecurity Week 2018
---
Get in touch
Phone:

0800 496 734

Email: