News
Even more events programmed to bring summer fun to regional parks
Published Date

07 Dec 2018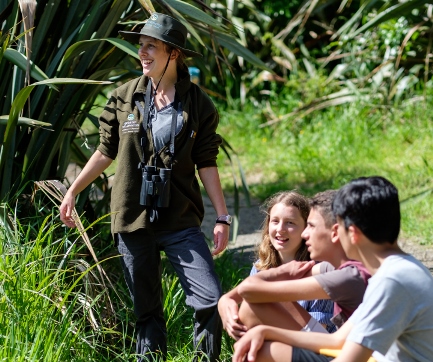 Wellington's summer attractions just got better with the launch of the Greater Wellington Great Outdoors (GWGO) programme, adding to the astonishing line-up of things to do in the region right through until next March.
While the commercial activities recently announced should draw some 150,000 visitors to the city, GWGO's focus is on getting locals out and about to explore the incredible diversity of activities and places on offer in our regional parks, mostly free of charge.
GWGO is offering a programme of 44 events designed to show off the spectrum of activities available in our regional parks, from 4-wheel driving and mountain biking through to craft fairs, cultural trips and strolling with the family.
"This is a chance to come and explore the region's backyard and its best kept secrets. We've got more than 50,000 hectares of parkland just waiting for locals to discover, all within a short drive of home. It's affordable fun," says Greater Wellington Parks Portfolio leader Cr. Prue Lamason.
Last year's summer saw record turnouts at the events, some of which were booked out well in advance, and Greater Wellington is expecting big demand again this year. Many of the events are being hosted by Greater Wellington's park rangers and local experts, a point of difference that provides unique insight into what goes on in regional parks.
Some of the highlights on this year's programme include Parksport, in Queen Elizabeth Park, where stamps will be awarded for getting involved in the many activities available throughout the park, with some great prizes from Dwight's Outdoors. Battle Hill Farm Forest Park once again offers a laid-back Family Farm Day, where kids can jump on hay bales or sit on a tractor and experience a working farm in action.
And once again the ever-popular Kev the Kiwi will provide a fun and exciting way for kids to get active in regional and local parks. In partnership with Upper Hutt City Council and Hutt City Council, Kev will join kids at the seaside, at Rivendell and for a buggy walk in the wonderful Wainuiomata Recreation Area.
"There are plenty of options for people of all interests and levels of fitness, lots of opportunities to get out and explore places you may never have heard of. There's so much to do, but you'll never know unless you go," says Cr. Lamason.
The Greater Wellington Great Outdoors programme will run through January-March 2019. It covers 44 events. Most of the events are free, and for many people can just turn up. Some events require a booking, due to limited spaces, others require a charge to cover costs.
For more information people can pick up a brochure from a local i-site, library or swimming pool, contact Greater Wellington Great Outdoors via bookings@gw.govt.nz or call 0800 496 734.
Find out more
ENDS
---
Get in touch
Phone:

0800 496 734

Email: