News
Bridging the visitor gap at Baring Head
Published Date

11 Oct 2018
Work has begun on replacing the Baring Head Bridge across the Wainuiomata River to East Harbour Regional Park, a construction project that will assure future access to Baring Head's spectacular lighthouse complex.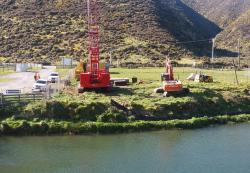 "It's all go in the southern end of the park, and replacing the bridge is the key to unlocking the significant visitor potential of the isolated and beautiful area," says Greater Wellington Parks Manager Amanda Cox.
"Redevelopment is gathering pace to turn the Baring Head lighthouse complex into a great day and overnight destination for people looking to experience life in the last full remaining lighthouse complex in New Zealand. We're renovating the original buildings, re-establishing its gardens and bringing the area back to life through media which will tell stories of the past."
Realising the visitor experience will depend on replacing the 86-year old bridge, which has reached the end of its useful life, to provide reliable and safe vehicle access over the river. The bridge was originally constructed in 1932 and replacement of this key asset has been on the regional parks work programme for a number of years.
"It's wonderful to see the new bridge going up and to know we will have a new bridge around Christmas," says Amanda Cox
"The replacement bridge is being constructed 40m downstream of the old bridge and not only will provide safer access to this area but it will have much better flood clearance"'.
Restrictions on vehicles access to the park will largely continue, however. Visitor vehicles will still be required to stop at the bridge car park and only pedestrian or cycle access will be permitted in the park.
"However we are expecting that people who stay in the lighthouse complex will have access via some means to drive over the bridge and up the road, to park somewhere near the walking access to the cottages. Access details will be available closer to the time."
Contractors are on site now and once construction is finished, the old bridge will be taken down.
The bridge replacement is part of a wider project Greater Wellington Regional Council is working on with Friends of Baring Head to preserve the historic lighthouse complex at Baring Head.
ENDS
For more information: Greater Wellington media Phone 021 914 266
---
Get in touch
Phone:

0800 496 734

Email: