With the variety of landscape in our parks there are some great spots to fly drones or UAVs (unmanned aerial vehicles). It's important to note, however, that not all parks allow drones, and in some it is strictly prohibited.
For more detailed information read the GW guidelines:
Flying drones (UAVs) in Greater Wellington Regional Council parks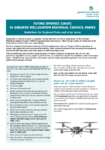 Flying UAVs or drones in parks is a popular activity and there are lots of good places to fly in Greater Wellington Regional Council (GWRC) managed parks and reserves. When… Read more here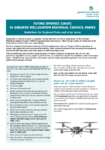 Regardless of where you fly your drone, you need to be aware of the rules under the New Zealand Civil Aviation Authority and comply with them.
A permit is not required for recreational flying, but is required if you intend to fly for commercial purposes.
Where can I fly?
Suggested areas suitable for flying UAVs
The 'top terrace' at Kaitoke Regional Park
The 'concrete pads' and cliff top area at Whitireia Park near the park entrance, but not within 100 metres of the Radio New Zealand aerial masts and associated infrastructure, or and any paragliders, hang gliders or kite surfers in the park.
The 'air strip' area at Battle Hill Farm Forest Park (except during lambing/ calving season)
The eastern side of the Wainuiomata River flats at the Baring Head, Coast Road park entrance, East Harbour Regional Park. Areas to the west of the Wainuiomata River are within the controlled airspace of Wellington Airport (and Airways NZ clearance is required before you can fly).
Dry Creek area, Belmont Regional Park
Areas to avoid
Recreation trails when busy. Unless you can obtain 'prior permission of all the park users you wish to fly above' (as per CAA rule)
Any areas where organised events or gatherings are taking place, unless permission has been obtained for example, as part of an event permit
Areas drones are strictly banned
All designated picnic areas. This includes picnic areas in Kaitoke Regional Park, Queen Elizabeth Park, Tunnel Gully Recreation Area, the lower dam area at Wainuiomata Recreation Area, Cannon Point in Akatarawa Forest, Baring Head lighthouse precinct in East Harbour Regional Park, and Onehunga Bay car park and picnic area in Whitireia Park
All designated camping areas. This includes Kaitoke Regional Park and Battle Hill Farm Forest Park
Areas of Battle Hill Farm Forest Park and Belmont Regional Park seasonally closed for lambing and calving
All wetland and nesting or roosting bird habitat areas in parks
Closer than 30 metres to any vehicles, boats or park buildings or structures (note that Wellington Harbour is a controlled airspace, if you do have permission to fly over the harbour, please stay at least 200 metres away from large commercial shipping)
In other locations when asked to cease flying by a Park Ranger or member of the public
---
Get in touch
Phone:

0800 496 734

Email: