The climate, soil and land forms of our region gave rise to the diverse range of forests that once covered 782,000 ha of the region. These ranged from dune forest on the Kapiti coast to the subalpine scrub found high in the Tararua Ranges.
About our forests
Only 27% of our region's original forests remain, and some are now less than 2% of their original size.
Using a new national classification system and GIS mapping, our Environmental Science staff have identified the region's 21 distinct types of forests, and the location and status of these surviving remnants.
Each of our region's 21 forest types have been classified using the International Union for Conservation of Nature (ICUN) ecosystem threat status criteria. Seven of the 21 forest types are classified as 'critically endangered' and are threatened by grazing, weeds, pest animals and fragmentation. One of these is the tōtara, mataī, ribbonwood forests that were abundant on the Wairarapa Plains and on Te Horo Plain, south of the Ōtaki River. Today only 3% of this forest type remains. A remnant can be found in the Soldiers Memorial Park in Greytown.
With this information, we can all help to protect and strengthen the surviving remnants of original forests.
Forest ecosystems of the Wellington Region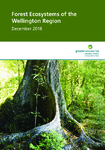 Forest ecosystem types in the Wellington region have been identified using a national ecosystem classification system developed by Nick Singers and Geoff Rogers. The historic extent of each of the… Read more here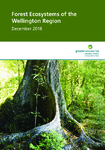 Why are these forests important?
Native forests provide food, and habitats for native species like birds, lizards, bats and insects.
Many of the remaining forests in our region are fragmented and isolated. This means that the species that live there are more vulnerable to invasive species. Offshore islands, pest-free sanctuaries, and areas that are intensively controlled (like Pūkaha National Wildlife Centre and Wainuiomata Mainland Island), play an important role in helping many species recover.
However, areas of private land can also play a key role in ensuring that our remaining forest ecosystems, and the species that live within them, are protected and restored.
Ways to protect and strengthen these surviving forests
You can help to protect and strengthen forest remnants by:
Identifying the forest types on your land
Fencing to keep stock out and retiring land that contains threatened forest types
Covenants: We work in partnership with QEII National Trust to offer legal protection of special ecosystems and habitats by way of covenants.
Planting around and within the remnants using plants that are native to your area.
Sourcing native plants
We recommend 'eco-sourcing' where possible. Some plants are native to New Zealand, but not to the Wellington region. These species can become widespread, displacing the local species and changing the character of our ecosystems.
Indigenous plants are important for the region's unique ecology, and some are irreplaceable once lost. Eco-sourcing the plants protects the local characteristics by strengthening their resilience and genetics. This also ensures that the plants are better suited to the local conditions, and are therefore more likely to thrive.
Sourcing native plants for your project can be done either through growing your own, or buying from established nurseries.
Check out the Wellington Region Native Plant guide (PDF 9 MB) to help you decide which plants will be best suited to your property.
Growing your own
Many native plants are not difficult to grow from eco-sourced seeds or cuttings. If you have the time and room for some basic nursery facilities, growing your own plants can be a rewarding aspect of a restoration project.
If you want to collect seeds and plants then check if you need a permit to do this on public land, and get permission from private landowners.
More information on eco-sourcing and propagation.
Buying plants
For many restoration projects, it's likely that plants will need to be purchased from a nursery. There are a number of specialist native nurseries that can supply eco-sourced plants appropriate for your area, such as our Akura Nursery.
---
Get in touch
Phone:

0800496734

Email: