News
Sign up for carpooling this week - there's no better time!
Published Date

08 Jun 2015
If you're keen to save money, be a little kinder to the environment and meet some new people, then carpooling could well be the way to go - and there's no better time to start carpooling than during Kiwi Carpool Week, June 8 – 14.
"Sharing a ride to and from work even just a few days a week has huge benefits," says Melanie Thornton, Greater Wellington Regional Council's Sustainable Transport Manager. "You share the costs of petrol and parking, get to meet some new people and very possibly make new friends, have some interesting conversations and a few laughs – and you're helping to reduce the region's transport pollution.
"If you're thinking about carpooling but don't know where to start, we have the answer: Let's Carpool. It's a free, secure website that finds carpooling matches for you. All you need to do is register and fill in a few details about where and when you want to carpool. You'll be emailed with a list of possible matches – and you're away.
"Even better, if you register for Let's Carpool during the month of June you'll go in the draw to win some fabulous prizes including petrol vouchers from Z Energy, local movie passes and VIP tickets to see Ed Sheeran in concert in Auckland.
"The more people who register, the more possible matches there are for everyone but please make sure you're serious about the idea of carpooling. It's only fair to others."
'Sardine Mondays' help this carpool group save
Every Monday, Trentham residents Mike Kennedy, Selena Franklin, Roz Barton, Jane Tate, and Anita Guthrie squeeze into Anita's little blue Hyundai Getz, eager to start the fun and save money on their commute to the Wellington CBD.
Anita Guthrie has been carpooling for almost three years now, after she originally connected with Roz through the Let's Carpool website. Their commutes matched up, and the rest was history.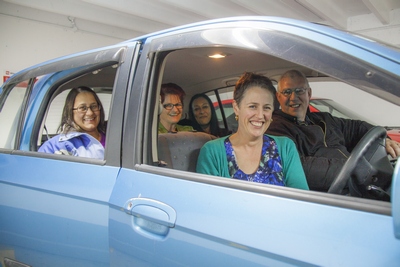 For the members of this group, carpooling was the obvious choice. Living on the opposite side of town from the train and travelling to the same part of Wellington CBD each day made it a stress-free way to save money and to add some variety into their mornings. Anita treats the rest of the group to a door-to-door pickup service, as they all live in the same area. "That means no wet walks or waits," says Anita.
Each of the Trentham carpooling contingent is dropped off quite close to their workplaces in the morning, and they all reconvene at the carpark in the afternoon. Then they all pile back in, living up to the name they've given themselves on busy carpool days - Sardines.
The group's favourite part about the carpool is how social they've become. "Our trips are always funny, we have lots of laughter all the time. We're all totally different but it's great as this adds to the fun," says Anita.
Sandwiching everyone into the car has led to some unspoken rules over the years. "Everyone fights over the front seat in jest but the person who sits in it has really clear rules. No touching the driver – she talks with her hands."
For media comment, call 021 914 266
---
Get in touch
Phone:

0800 496 734

Email: