News
Real people ride bikes - see the person share the road
Published Date

03 Feb 2015
Putting a human face to the cyclist under the helmet is the aim of an advertising campaign kicking off around the Wellington region on Monday 2 February.
"Often all we see of cyclists is a helmet and their back and we tend to forget that under that helmet is a regular person, a mum, koro, son, or niece, someone who might work at our supermarket, teach at a local school or work in an office in the same building as us," says Vanessa Rushton, Greater Wellington Regional Council's Road Safety Campaign Manager.
"The relationship between motorists and cyclists on the road can sometimes be fraught. We want to encourage more of a 'we're all ordinary people sharing the road so let's do this together safely' type of attitude."
In the Wellington region 24 cyclists are involved in serious injury crashes with vehicles each year.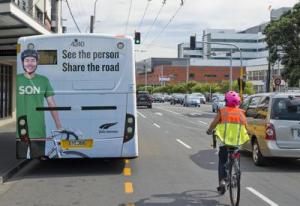 "The campaign encourages motorists to see the person, not just a cyclist. Everyday bike riders from the Wellington region have had their photos taken wearing a t-shirt with a word that describes them –whether it's Uncle, Kuia, nurse, coffee guy, doctor or farmer.
These images will be displayed on the back of buses, on billboards, on tv screens at petrol stations and in newspaper advertisements – around the region during February."
Vanessa says February, being a notoriously settled, warm and sunny month, is a month when a high number of cyclists can be on the roads. "It's a popular time to ride to work or school but also a time when traffic starts to return to normal after January. We're encouraging motorists to understand that a wide range of people ride bikes and to share the road safely and considerately with them."
The campaign is a regional extension of the NZ Transport Agency's national Share the Road campaign. This is aimed at reducing the number of deaths and serious injuries to people cycling across the region, which is part of the Safer Journeys strategy underpinning all the Transport Agency's work.
Simon Kennett, the Regional Council's Active Transport Coordinator, says while this particular campaign focuses on motorists, cyclists also have a responsibility to share the road safely. "When riding on the road cyclists need to respect other road users, use hand signals to let motorists know what they're doing and stop at red lights."
For media comment, call 021 914 266
---
Get in touch
Phone:

0800 496 734

Email: