News
Ramaroa opening adds new dimension to Queen Elizabeth Park
Published Date

05 Dec 2017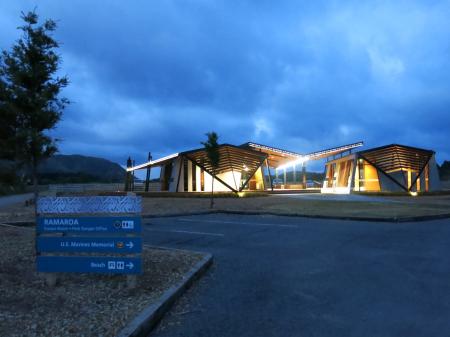 The rich Maori, European and natural heritage of Queen Elizabeth Park is now on display with the opening last Saturday of Ramaroa, the brand new heritage centre at the park's Mackays Crossing entrance.
"We want to bring stories of the people, places and history of the region to life, and Ramaroa will provide the showcase through which to do so" says Greater Wellington Parks Portfolio Leader Cllr Prue Lamason.
"Ramaroa will draw visitors into the park's fascinating story through providing insightful and imaginative information on its heritage and culture. It will tell stories of the region's rich history of Maori life in the wetland region, and more recent stories of European settlement and the place of US Marines in the park."
The complex will also provide a great meeting space which community groups and other organisations can book for their own activities or to learn more about the park.
Centrepoint of the new heritage centre is the strongly designed Ramaroa.
The colourful and innovative Ramaroa comprises a large meeting room capable of seating 60 people, which opens onto a covered deck area that will house interpretive displays of the park's human history and unique natural environment. The park ranger office and visitor toilets are integrated within the highly embellished structure.
Ben Gilpin, of Gilplans Architecture, designed the complex. He says "with a rich history of Maori heritage and use by US Marines in WW2 Ramaroa's design had to respond to all aspects of the site's heritage. The design incorporates two separate gable buildings linked via a gullwing roof, tilted walls and large decks for mixed use, which refers both to the traditional Maori wharenui and the tent structures from the Marine camp."
By using timber battens and the separating the buildings the heritage centre creates a strong connection to a traditional pa site. Posts supporting the gullwing roof are adorned with a contemporary design by local carver Nathan Te Rei, further enhancing the Maori and ancestral connection to the site. The angled screens resemble typical "tent flies" and the gullwing roof references the coastal environment setting. Durable, rich and warm materials were selected for a robust design that will be preserved for many years to come.
Ramaroās icon panels and Kāwhaiwhai were designed by artist Hermann Salzmann; the construction of the building was by Ben Ryder of Ryder Builders.
"This area will provide a real added dimension to visiting the park," says Cllr Lamason. "We've located it at the Mackays Crossing entrance, our only park entrance straight off State Highway 1. We expect the Ramaroa will become the focal point of the park for many people."
---
Get in touch
Phone:

0800 496 734

Email: