News
Parkside Article August 2020
Published Date

07 Sep 2020
Unfortunately at the time of writing we all find ourselves back at COVID level 2, this may change by the time we go to print. Community transmission is happening so please remember the Northern Forest tracks are narrow, making social distancing hard. Look after yourselves and others by being mindful.
This year's Hunting Ballot in East Harbours, Northern forest and other Regional parks were cancelled due to COVID 19. However, Trap and Trigger, professional hunters undertook 8 days of deer hunting in the Northern Forest as part of Greater Wellington's control program. 4 deer and 3 goats were removed from the margins of the forest. The use of firearms in these areas close to the residential properties is a skilled operation due to the nature of the terrain and strict safety protocols.
Every now and then I get contacted by private households that back onto the Northern Forest who have a problem with deer destroying their flowers, fruit trees or veggie gardens. Under the present control plan deer will not be eradicated from the Northern forest, so this impact is unlikely to go away. Options to consider are to build a deer proof fence or other protection for your garden or specific plants or try a deer repellent such as natures defence weatherproof deer repellent. Hiring a professional hunter on private land is an option, but hunting without a permit in the park is breaching the bylaws. Contact us and we can work together to increase the chances of success.
Weed of the month: Moth Plant
My first ever 'weed of the month' is quite obscure but there are active sites close to the park.
This climbing vine can grow 10m high, smothering native vegetation. The funky looking pods can be as big as a fist and contain over 500 seeds. White flowers appear from December to May, leaves are 5-12cm long and it has a milky white sap that can cause people to react. So altogether it's not wanted.
If you know of any sites of this pest plant, in or out of the park let us know and we will control it for free.
Despite delays caused by COVID 19, 4000 plants have made it into the ground at Baring Head and over 1500 plants at the Parangarahu lakes. Thanks to all the volunteers and tangata whenua involved. On 8 August, Point Howard and Lowry Bay residents braved a cold southerly to trim tracks and tame gorse. We hope to get some plants in soon.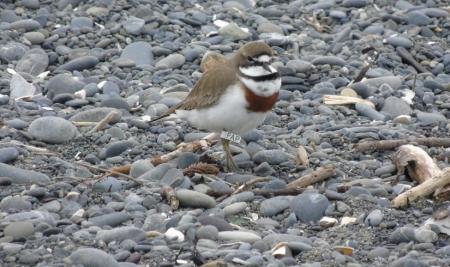 Banded Dotterels, Pohowera have arrived back at both the lakes and Eastbourne foreshore including a male banded as PAP who was spotted in New Caledonia!
Nationally threatened, this species has many threats, feral and domestic cats are one. Pest control is important and last year the lakes colony successfully fledge 6 chicks, but the Eastbourne colony failed. Houses closest to the colony at Eastbourne will be receiving information about what to do to keep cats safe whilst helping the banded dotterels. If you want more information contact MIRO at info@miro.org.nz.
I have my fingers crossed that this year will bring the upgrade of the Mackenzie track, park entrance. This site is particularly challenging, being steep, narrow and with limited access. Engineers are working to solve this problem, which won't be easy.
Have your say - The draft Parks Network Plan, outlining the vision and direction of Wellington's regional parks for the next 10 years, including East Harbour Regional park is due out for public consultation very soon. It will be available on the Greater Wellington Regional Council Website. (Update: public consultation is now open. Have your say on the draft Parks Network Plan now.)
Read the original version of Jo Greenman's article in the Eastbourne Herald.
---
Get in touch
Phone:

0800 496 734

Email: