News
Officials warn swimmers to stay out of Hutt River
Published Date

29 Nov 2017
Greater Wellington Regional Council and Regional Public Health is warning swimmers to stay out of the Hutt River below Kaitoke due to the increased risk of swallowing potentially fatal toxic algae, which is blooming in the warm dry weather.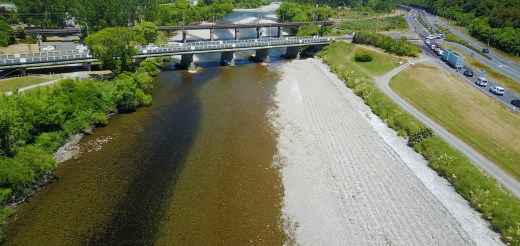 "Hot weather, warm water and a lack of rain in the last two weeks have made conditions ideal for the native algae to suddenly bloom," say Greater Wellington environmental scientist Dr Mark Heath. "This means pieces of algae are breaking off rocks and floating downriver in much larger quantities than usual, and this has become a risk to swimmers as well as dogs.
"Even very small amounts of toxic algae, if swallowed, can cause serious illness and - although unlikely - can potentially be fatal. Usually algal mats are in limited quantities and easily avoided by swimmers, so there is a low risk of actually swallowing one. This week we have seen a sudden increase in the number of mats floating down the river and, without rain, this is likely to get worse. So the chance of accidentally swallowing an algal mat is much higher than usual, and we think this justifies a warning to stay out of the river."
The council is also encouraging dog owners to keep their dogs on a lead and away from the river's edge.
"The algae gives off an earthy/musty smell that attracts dogs. It usually gets caught up in rocks on the river bank so, with the volume of algae we are seeing, we encourage owners to keep their dogs safe on a lead and well away from the water.
"At this stage the warning is only for the Hutt River below Kaitoke. We are continuing to monitor other rivers in the region and any warnings will be put on the www.gw.govt.nz website. A burst of significant rainfall should flush out the river and lower the risk," says Dr Heath.
"The most likely symptoms of algal poisoning are nausea, vomiting, numbness, tingling, muscle twitches, shaking, weakness, breathing difficulties and, although unlikely, potentially convulsions and loss of consciousness. These symptoms would usually occur soon after exposure," says Dr Jill McKenzie of Regional Public Health. "If you are concerned about potential health risks, consult your doctor or ring the health line - 0800 611 116. Your doctor should report potential illness from toxic algal exposure to Regional Public Health."
Videos toxic algae in the Hutt River are available on youtube.com
ENDS
For media information, please call:
Clayton Anderson, Council Communications, 027 272 1370
Lucy Kingsbeer, Public Health Communications Advisor, Regional Public Health (04) 570 9034 (027) 583 3240
---
Get in touch
Phone:

0800 496 734

Email: