News
New report starkly outlines Wairarapa climate change
Published Date

29 Sep 2021
All Tags
A new report that brings home the impact of climate change in Wairarapa in never-before seen detail has just been released by Greater Wellington.
Commissioned by Greater Wellington and written by NIWA, the report provides the latest update on the climate science for the Wairarapa since last year.
It comprises state-of-the-art climate change projections, with a suite of high resolution maps, providing a targeted view of the different climatic zones and climate change impacts across the vast Wairarapa geographical landscape.
Dr. Alex Pezza, Greater Wellington's senior climate scientist, says that while the report doesn't provide new modelling since NIWA's previous climate change modelling, its value lies in the clarity with which it presents the impact of climate change in the region.
"The clearer we can be in presenting the stark reality of climate change in Wairarapa, the better people will understand what the future looks like and the more likely they will be to change it for the better.
"So If people can grasp the scientific message from a position of strength and balance, they will naturally contribute towards a better future in their local community", says Dr Pezza.
As well as high resolution maps, the report is supported by a short, yet detailed explanatory 'user-friendly' video which provides an overview of NIWA's scientific projections. It animates different future scenarios based on known changes plus additional different impacts that will affect agriculture, water resilience, environmental, economic and community resilience.
Greater Wellington Climate Committee Chair, Cr Thomas Nash, says that hammering home the climate change message is vital.
"This report reinforces what we know – that we can already see rising temperatures and the intensification of extreme weather events. We also know that the sooner we all bring our emission generating activities into line with the reality of our changing climate, the better off we will be long term.
"One thing is certain - natural infrastructure, like healthy soil, forests and wetlands – will be more and more important in a climate stressed world. Natural infrastructure is the best value infrastructure money can buy and it not only stores carbon, but protects against drought and flooding and boosts biodiversity.
"As part of the 30-year Wellington Regional Growth Framework we are undertaking serious regional climate planning, both on emissions reduction and on adaptation. Reliable scientific data is crucial for this planning work so this new updated report is an important contribution."
To reflect the changes projected for Wairarapa's climate, a Water Resilience Strategy was recently approved by the three local councils, local iwi and Greater Wellington. This strategy principally evolved from both the Wairarapa Economic Development Strategy and NIWA's earlier climate change work for the entire Wellington region.
Work has just begun on planning implementation of Water Resilience Strategy, covering 'green' projects such as plantings, though to infrastructure such as water supply pipe repairs. NIWA's latest Wairarapa climate change projections confirm the nature and scale of the efforts needed to help mitigate climate change effects.
Greater Wellington's Wairarapa Committee Chair, Cr Adrienne Staples, says that Greater Wellington is working with local communities to mitigate one of the key threats outlined in the report, the likelihood of more intense rainfall events and the potential for resulting flooding.
"Given the impact of intense rainfall on our rivers, it's no longer viable to focus solely on engineering solutions to flood management. So we're looking to the future by enabling, within limits, the natural flow of our rivers, developing natural solutions to the impact of flooding and adapting land use to the conditions of the future."
Climate change projections for the Wairarapa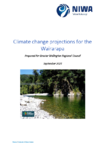 The climate of the Wairarapa is changing, and these changes will continue for the foreseeable future. It is internationally accepted that human greenhouse gas emissions are the dominant cause of… Read more here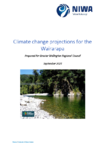 ---
Get in touch
Phone:

0800496734

Email: