News
Metlink bike rack practice point encourages cycle savviness
Published Date

02 Jun 2023
All Tags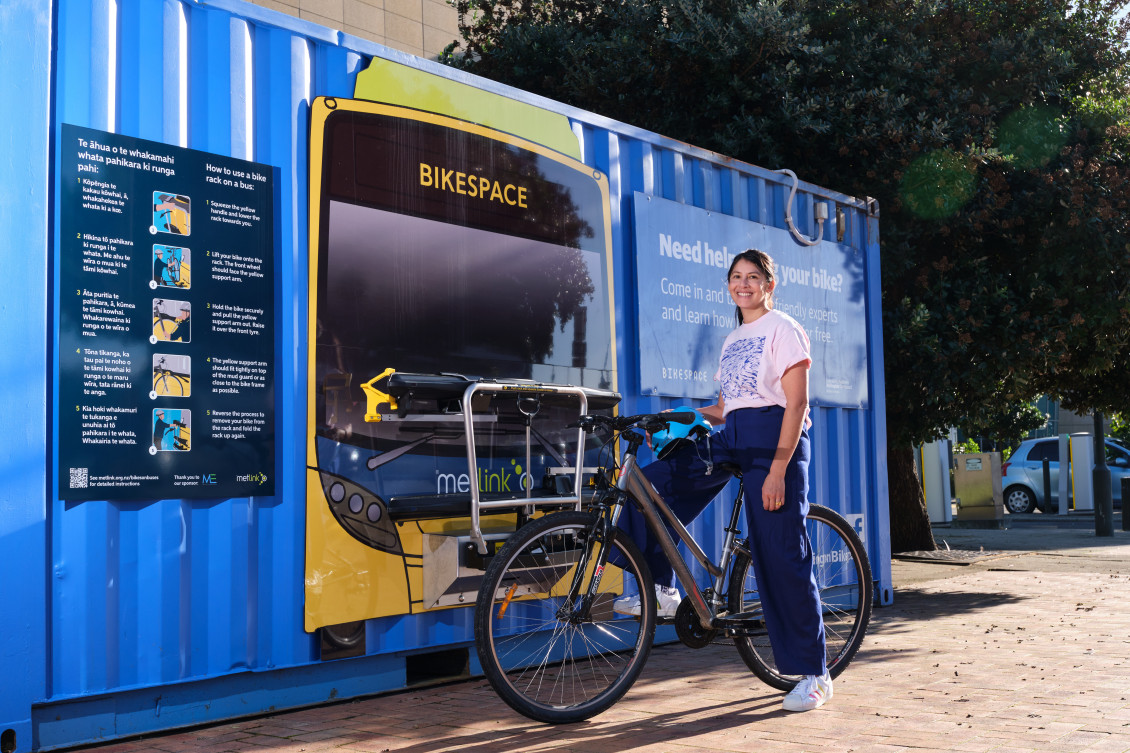 A bus bike rack installed by Greater Wellington allows Wellingtonians to practice attaching their bikes to Metlink buses - without worrying about stopping traffic.
The rack is affixed to a near-life-sized image of a Metlink bus on the Bike Space workshop, a city-council sponsored bike repair shop on Cable Street next to Waitangi Park.
Regional councillor Yadana Saw took her own bike to try out the new practice rack. "I enjoy cycling and I often use the bus, but I haven't had the courage to combine the two," she said.
"Having a place to practice will make it easier to just to pop my bike on the bus. It makes multimodal travel more accessible, which is an important part of climate action."
The regional council's Travel Choice team hopes that the practice rack will help demystify bussing and biking for those nervous to try it.
"We understand that some people are intimidated by the idea of using a rack for the first time with a bus full of passengers waiting,' said Travel Choice Advisor Sean Linton.
"We're hoping this installation will give more people the confidence to use these bike racks, which are on all regular-service Metlink buses."
Linton added that as the public's confidence grows, people will be encouraged to visit areas further afield without relying upon cars.
The bike rack, which was installed for free by Metco Engineering, could be the first of many if it proves popular. Greater Wellington is committed to guiding more people towards public transport and active travel modes, like cycling, as outlined in the Regional Land Transport Plan.
Councillor Saw said, "We're showing Wellingtonians that there are safe and simple transport options beyond jumping in your car. Lower-emission alternatives are here and getting easier by the day."
The Wellington region's target is for a 40 percent increase in the use of public transport and active travel modes by 2030.
---
Get in touch
Phone:

0800 496 734

Email: