News
Greater Wellington seeks further assurances from KiwiRail on critical risks for Metlink rail network
Published Date

03 May 2023
All Tags
A set of assurances has been requested from KiwiRail by Greater Wellington after the equipment failure that led to speed restrictions on the Metlink rail network.
The regional council's public transport wing has been forced to run reduced train timetables this week, cutting normal services in half and leaving commuters stranded.
In a letter to KiwiRail's board, Greater Wellington Chair Daran Ponter said he was disappointed to have learned of the failure of "KiwiRail's one and only track assessment vehicle" only days before the restrictions were imposed.
"The failure of this critical asset and its potential impact is something that we would expect KiwiRail would have been aware of several weeks ago. The lack of timely communication has put the Metlink rail service under severe pressure this week. I welcome the Government's review of KiwiRail… to look into these matters.
"We are concerned this is the tip of the iceberg in terms of the critical risks and issues on the Wellington metro network and, in particular, those that are a single point of failure that could take down the whole or a significant part of it.
"Other fragilities we are aware of include slope instability and signals. What other end-of-life assets are there that might fail before they can be replaced?"
Cr Ponter cited recently announced Crown funding for new trains on the Manawatu and Wairarapa lines and the supporting business case that assumes progress on currently funded network upgrades.
"We need to be confident that KiwiRail's part of this work will be delivered… Our delivery of public transport services on the Wellington metropolitan rail network relies on KiwiRail's performance."
The assurances Greater Wellington is seeking from KiwiRail include:
KiwiRail will identify and manage critical points of failure impacting the Wellington metropolitan rail network and the operation of Metlink services,
KiwiRail will work with Greater Wellington urgently and in a transparent manner to identify current and future funding requirements to address key risk areas for the network,
KiwiRail will progress its asset management maturity at pace to ensure the network improves rather than declines,
KiwiRail will complete, in full and on time, the existing programme of network upgrades to enable the benefits of the new trains to be purchased.
Normal timetables are set to resume on the Metlink rail network on Thursday 4 May after KiwiRail expedited repairs to its track assessment vehicle and conducted an urgent inspection of the Kapiti Line. This has identified four areas that will remain subject to speed restrictions and delays until remedial work is completed by KiwiRail.
With assessments of other Metlink rail lines due in the coming days, more speed restrictions and delays are possible.
For schedules and the latest information on the Metlink rail network, check the Metlink website and app.
Letter to Ministers - Chair KiwiRail Board - Wellington Rail Network issues 2 May 2023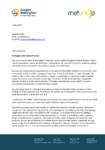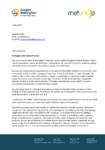 ---
Get in touch
Phone:

0800 496 734

Email: