News
FIFA World Cup deal, driver recruitment to be discussed by Greater Wellington
Published Date

01 May 2023
All Tags
Regional councillors will hear from Metlink on a new initiative for the FIFA Women's World Cup at a Transport Committee meeting on Thursday 4 May.
Metlink announced in March that rugby fans would be able to use their game tickets to catch public transport to and from Hurricanes home games this season. Now Metlink has worked with WellingtonNZ on an arrangement for the FIFA Women's World Cup, to be reported at the upcoming Committee meeting.
Councillors will also hear a report on progress being made to tackle public transport workforce shortages.
A national shortage in bus drivers has left Metlink about 120 drivers short of the 675 needed to run the full timetable. Operators have been making strong recruitment efforts both locally and overseas, and in March a wage increase for bus drivers was approved by Greater Wellington.
NZ Bus, who operate a fleet of over 146 buses in Wellington, will also give an operator update.
Media are welcome to attend the Transport Committee meeting online or in person.
9:30 AM Thursday 4 May
Greater Wellington Council Chamber, 100 Cuba Street, Te Aro
For more information, see the Transport Committee order paper:
Transport Committee 4 May 2023 order paper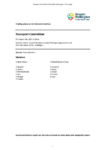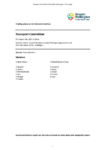 ---
Get in touch
Phone:

0800 496 734

Email: