News
East Harbour Regional Park Article October 2021
Published Date

15 Oct 2021
All Tags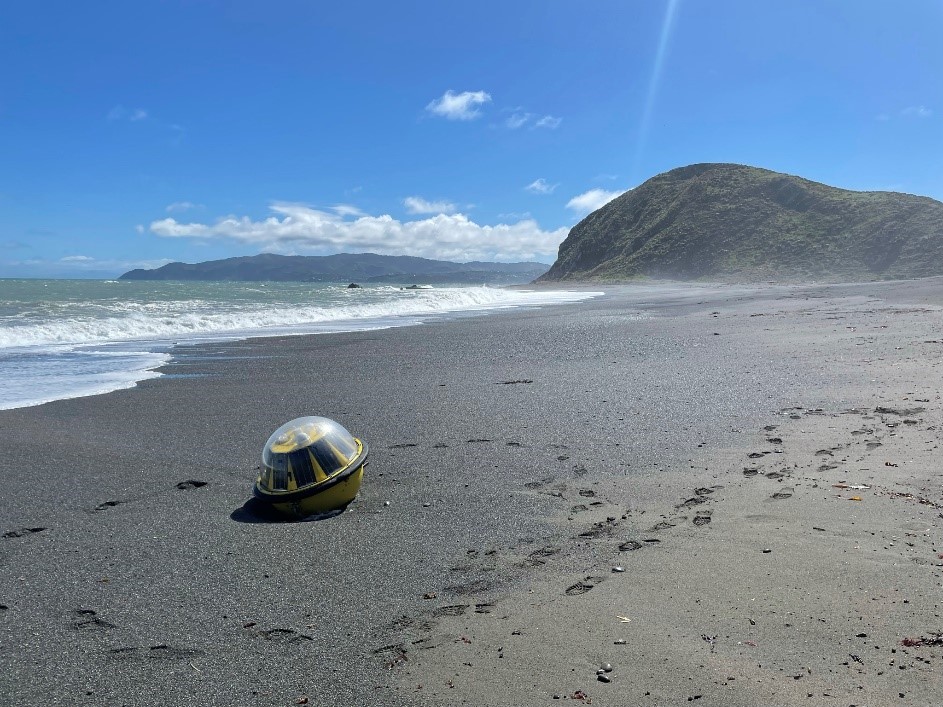 Although it looks a little bit like an alien spacecraft this NIWA wave bouy rider "landed" on the Parangarahu lakes beach after a storm on 14 October. Usually located off Baring Head, it sends accurate live measurements of the waves off Wellington's south coast directly to the harbourmaster at Beacon Hill. It has now been safely retrieved.
Deer scat
To understand how many deer are living in the park, a DNA scat (droppings) survey will take place between 25 October and 3 December. 120km of survey lines will be walked to find fresh deer scats. To enable full and systematic coverage of the entire park, survey lines are set approximately 175m apart in the interior and 100m apart around the edge to ensure deer roaming the private land fringe are monitored. Samples will be sent to Massey University to identify the number of individuals, hotspot areas and to map deer home ranges.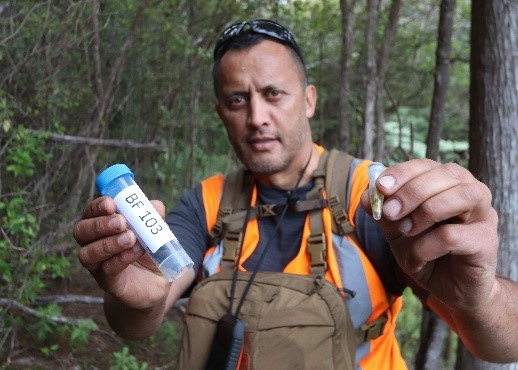 During the survey, field staff will cull any deer they encounter. DNA samples will be taken from culled deer for cross reference with scat DNA analysis.
There is an opportunity for professional deer culling by Trap and Trigger on private land during the survey contract period. Greater Wellington Regional Council will cover the cost of contracts and obligations ($60 per hour of hunting time for a minimum of 3 hours). There is no guarantee of shooting an animal. Written permission is required for hunters to operate on private land. Please contact Jo on 0274673076, or jo.greenman@gw.govt.nz – to discuss culling on private land.
Weed of the Month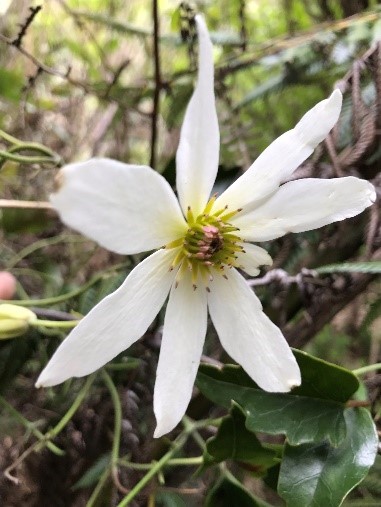 As you walk about the Northern Forest you may notice or smell a beautiful white flowered climbing vine. At this time of year, it's likely to be Puawhananga (Clematis paniculata) which flowers between August and November. Puawhananga is one of seven species of clematis native to New Zealand, most of which have three leaflets (except the Leafless C. afoliata). Soon the very weedy and invasive Old man's beard, Clemitis vitalba, will start to flower (December to May). The easiest way to tell them apart is that each leaf on Old man's beard has five leaflets. Both vines grow high into the canopy. Old man's beard has six prominent ribs or furrows and its bark easily rubs off whereas the woody stems of the native clematis are unfurrowed.
The hardy Old man's beard produces many seeds and grows rapidly, forming dense, heavy, masses that dominate, smother and kill all plants. The noxious weed also prevents the growth of native seedlings and moves readily into established forest over the canopy.
---
Get in touch
Phone:

0800496734

Email: