News
East Harbour Regional Park Article February 2021
Published Date

28 Feb 2021
Back in October Trap and Trigger, professional hunters undertook eight days of deer hunting in the Northern Forest as part of Greater Wellington's deer control program. Night shooting and the ability to respond to public sightings resulted in nine pigs, three goats and thirteen deer culled. The public hunting ballot will be available in April 2021 and this will be followed by another eight days professional hunting. Together with MIRO we aim to look into how to measure the impact of deer in the Northern Forest as part of the Key Native Ecosystem plan.
Despite a very disrupted 2020 planting season, due to COVID 19, and a thankfully wet spring just over 7000 plants made it into the ground at Baring Head along the river valley and over 1500 plants at the Parangarahu lakes. The recent dry weather has had its toll on some plants that did not have time to put down a big enough root system which is a shame.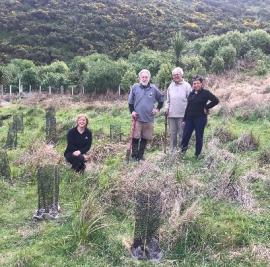 A small group of planters cut light wells in one of the more mature planting plots (back of the photo) to plant Kahikatea and other plants needing shelter and some experimental plants on the lake shores in protectors.
Weed of month - Yellow flag iris - Iris pseudacorus
Greater Wellington has been removing the invasive Yellow flag Iris from lake kohungatera (2nd lake past Pencarrow light house) for 10 years.
| | |
| --- | --- |
| | |
This attractive garden escapee grows in robust, tall clumps, and yellow flowers appear from October to December. Floating, salt tolerent, rhizome mats displace native wetland plants like raupо̄ (bullrush), sedges and rushes, and quickly distribute around a lake. Once widespread it causes changes in the water levels, flooding and the poisonous seeds may have an impact on birdlife. The rare salt marsh vegetation provides a special habitat for some regionally threatened oceanic, dune and wetland birds including the threatened – nationally critical Bittern/Matuku and secretive Spotless Crake/Pūweto. Early use of herbicides proved unsuccessful and a concerted effort to hand dig the rhizomes, bag and remove them has stopped the spread around the lake and the bulk of the infestation should be controlled in another couple of years. The use of a small boat in recent years has accelerated the program.
The historic Power House at Baring head, East Harbour Regional Park was transformed into a story hub and day shelter where the untold stories of Baring Head/ Orua Pouanui are revealed! It's now open to the public daily from 9-5.
The landscape is dramatic and there is a lot to discover here - iwi and early settlers, defence history, maritime navigation stories, NIWA and GNS work, geology and the wider site ecological restoration.
Peter Jackson, Te Atiawa, Taranaki Iwi and Prue Lamason, councillor, officially opened the building on 9th February, marking a significant milestone for the friends of baring head in the presence of two previous lighthouse keepers and many sponsors.
---
Get in touch
Phone:

0800 496 734

Email: