News
East Harbour Regional Park Article April 2021
Published Date

28 Apr 2021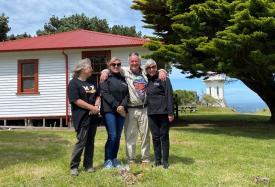 The recent sudden passing of Colin Ryder, treasurer of the Friends of Baring Head amongst the many other environmental hats he wore has been a great loss to conservation projects region-wide. Colin was the driving force behind the acquisition of Baring head for public use, and it will be a lasting testament to his commitment to the region.
If you wish to honour him and enable us to continue his legacy please donate at the baring head give a little page.
Ballot Hunters in the Northern Forest are just about winding up for the year, so far 1 stag has been reported. Trap and Trigger, professional hunters will be undertaking eight days of hunting in the Northern Forest as part of Greater Wellington's deer control program between 3 May and 11 June. Although this is part of the deer control program every year both goats and pigs are removed when the opportunity presents.
Last October public reporting had a positive impact on the efficiency of this program. It would be very helpful for the community to report sightings from the 1 of May. Please contact Jo Greenman at 027 467 3076, (text is good) or jo.greenman@gw.govt.nz with as much detail as possible, including date of sighting, species, number, specific location, activity and photos are always useful.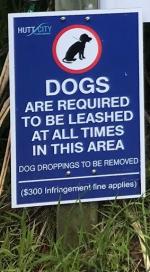 Something that may come as a surprise to many is the dog walking status of the Northern Forest, its 'Dogs on Lead' as per the Hutt City Council Bylaw.
The bylaw aims to strike a balance between the wishes of dog owners, the welfare needs of dogs, wider public concerns to be at ease using the park without fear of intimidation by dogs, and protection of the wildlife. This is currently communicated with a small symbol on all park entrance map boards. Some tracks already have supplementary and bigger signs. In May the larger signs will be added to all entrances to help clarify the current situation.
We have received complaints recently about dog incidents on the tracks. It's important that that the whole community feels the Northern Forest is a place they can comfortably go to.
Hutt City Council dog exercise areas bylaw, 10 yearly review is due in 2025 and a public survey and submissions are part of this process. The current situation is unsatisfactory for all and we can find a better balance. Find out more about the bylaw.
Removing droppings from tracks and track edges is something that should be tackled now, nobody wants this and if your dog is within sight it should not be missed. The team that scrub cut the tracks are subjected to an unsanitary spray of dog faeces regularly due to inconsiderate dog owners.
All dogs and people are different please keep your dogs under control, within sight and be respectful of others who may not be so comfortable on a confined track with dogs.
---
Get in touch
Phone:

0800 496 734

Email: