News
Celebrating Robin Maud's contribution to the Hutt River Trail
Published Date

18 Jul 2017
One of the key figures behind the development of the Hutt River Trail has been recognised by the planting of Totara trees in the newly established Robin Maud Memorial Grove in the Taita-Pomare reach of the Hutt River.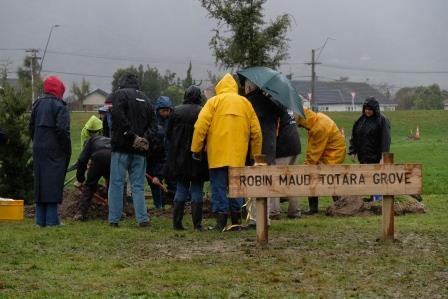 The planting ceremony also commemorated 25 years since the opening of the trail, which now attracts more than 1 million visits a year and is our most popular regional "park."
"Robin's contribution to the trail's success has been enormous, not least because when he gazed over the waters of the Hutt River a quarter of a century ago he saw much more than most people" says Greater Wellington Regional Council chair Clr Chris Laidlaw.
"What he saw was a vision of a linear park which would integrate the river into a planted and restored river corridor: a place that would offer peace, tranquillity and opportunities for exercise and recreation in a lovely natural setting.
"Robin was the driving force behind many developments, ranging from small details through to wider planning and policy, not just on the Trail but also0 in the sider river corridor."
The ceremony was attended by Carol Maud and members of Robin's family. It also marks the first stage of the development of Taita Park, which will be planted and landscaped to enhance the biodiversity and habitat of the river corridor, encourage connections between neighbouring communities and the river and provide spaces for recreation along the river.
ENDS
---
Get in touch
Phone:

0800 496 734

Email: