News
Big turnout for Moana Wetlands tour
Published Date

20 Mar 2014
Wairio Wetlands tour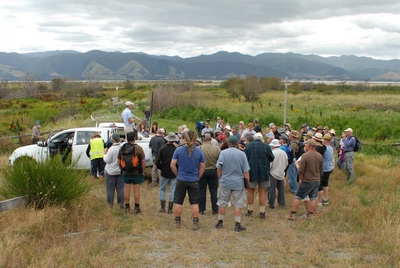 Locals and overseas visitors alike enjoyed the Moana Wetlands guided tour organised in celebration of World Wetlands Day 2014. A sunny day brought around ninety walkers out on Sunday 2nd February to learn more about the birds, plant and fish-life of the lower North Island's largest wetland. Some walkers were lucky enough to see the nationally endangered Australasian Bittern posing beside the track.
"We were pleased to see so many interested visitors join us for the afternoon. The weather was fabulous and there was a convivial atmosphere with walkers sharing knowledge as well as hearing from a broad range of speakers," says Ian Gunn, Moana Wetlands Project Co-ordinator. "Walkers were interested in so many aspects, for some the rare sighting of a bittern was memorable, for others it was seeing some of our pest fish and predators in the flesh!"
Talks from a range of speakers covered bird life, pest plants and animals, planting technique research and management practices at the Moana Wetlands. The Moana Wetland Partners are developing more opportunities to interpret the treasures in and around the lake.
You can read about the restoration work being lead by Ducks Unlimited on the Wairio Wetlands page of this website.
---
Get in touch
Phone:

0800 496 734

Email: