The requirements of the Local Government Act 2002 (Subpart 3 of Part 4 – Register of members' pecuniary interests) direct local authorities to keep a Register of pecuniary interests of elected members and to make a summary of this Register publicly available. These requirements came into effect on 20 November 2022.
The Register records Councillor interests to provide transparency and to strengthen public trust and confidence in local government processes and decision-making.
Councillors are required to provide this statutory pecuniary interest return annually and to update this return throughout the year as changes occur.
Under the Act, Greater Wellington Regional Council provides an overview of the Register's requirements (see below), followed by a summary of each Councillor's annual return for the relevant 12 month period:
Company directorship and controlling interest (section 54E(1)(a))
Interests (such as shares and bonds) in companies or business entities (sections 54E(1)(b) and (2))
Employment (section 54E(1)(c))
Interests in trusts (section 54E(1)(d))
Organisations and trusts seeking Council funding (section 54E(1)(e))
Organisations appointed to by virtue of being an Elected Member (section 54E(1)(f))
Real property (section 54E(1)(g) and (1)(h))
Overseas travel (section 54F(1)(a))
Gifts (section 54F(1)(b))
Payments for activities (section 54F(1)(c)).
Information is provided for each Councillor only where there was a related return. The following summary is for the period to 13 February 2023.
Register of Pecuniary Interests of Greater Wellington Regional Councillors - Summary of annual returns at 13 February 2023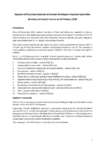 Since 20 November 2022, elected members of local authorities are required to make an annual return of the required pecuniary interests (as set out in Subpart 3 (sections 54A to… Read more here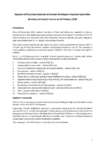 ---
Get in touch
Phone:

0800 496 734

Email: