What is the Wellington Region Integrated Buoy Observations (WRIBO) Programme?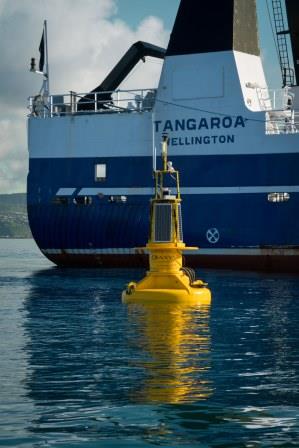 This high-tech surface buoy and string of instruments was deployed in July 2017 southeast of Matiu/Somes Island in Te Whanganui-a-Tara (Wellington Harbour) as part of the Wellington Region Integrated Buoy Observations (WRIBO) Programme. WRIBO delivers real-time, publicly available data on currents, waves, wind, salinity, temperature, sediment, oxygen, and chlorophyll.
The buoy was deployed to characterise water quality in Wellington Harbour and is positioned within the plume of the Hutt River, the biggest freshwater inflow into Wellington Harbour, to help us assess the impacts of land-based activities on water quality.
WRIBO is a joint programme with NIWA, who manage the instruments and the data that they provide.
WRIBO's features
This high-visibility yellow buoy is three metres high and powered by solar panels. WRIBO is fitted with a variety of instruments to record water quality at different depths and profilers at the surface and close to the seabed that measure changes in the speed and direction of water movement.
After periods of heavy rain, plumes from the Hutt River carry sediment, nutrients and contaminants from the catchment into Wellington Harbour. We can characterise the depth of these plumes from real-time WRIBO data, and now understand that fresh, high oxygen, sediment laden water generally affects the top two meters of Wellington Harbour surface waters during typical rainfall events. Larger, less frequent storms have been seen to influence waters up to 10 m depth!
The data is available, you can access it here!
A key focus for us is making the data accessible to the public in near real-time. In the longer term, we and our partners are working towards collating data from other buoys across New Zealand to form a national network.
WRIBO-Kāpiti, a 'sister' buoy to WRIBO, was deployed near the Kāpiti Marine Reserve in November 2020 and recorded data over a three month period, providing a snapshot of the influence of the Ōtaki, Manawatu and Waikanae rivers on marine water quality along the West Coast.
To view and download WRIBO's data, go to the GW environmental monitoring website and select your measurement of interest from the drop-down list.
This displays data from the surface wave station, as well as water quality data from instruments sitting just below the surface. Please note that these data are in raw form and have not undergone quality control processing.
Data from other depths will come online soon, so watch this space!
For more information email: wribo@niwa.co.nz
---
Get in touch
Phone:

0800 496 734

Email: