A brief summary of climate and hydrological conditions in the region.
This service is regularly updated during periods in which closer monitoring is required (regardless of time of the year), in recognition that there is potential for dry spells, or irregular hydrological recharging. It does not define an official council position on drought or drought declaration. Outside of dry periods, less frequent updates synchronise with our latest seasonal outlooks (PDF 2.1 MB) .
Updated 21 September 2023
Next update due when there is a significant change of conditions or a new seasonal outlook (PDF 2.1 MB) .
Background
An El Niño has developed, and a three-year-long wet spell is likely on the way out. During the previous years under La Niña, New Zealand has been battered by relentless 'atmospheric river' events, bringing significant tropical moisture and record amounts of rain. Now the Equatorial Pacific Ocean, which acts as a powerful driver for the global climate anomalies, has switched to the extreme opposite mode.
Strong impacts are already manifesting as a result, with very warm oceanic temperatures over most of the Northern Hemisphere and extreme weather events unfolding in many countries. For Aotearoa New Zealand, strong El Niños are normally associated with south-westerly flows, cooler oceans and potentially long dry spells in the sheltered areas east of the main ranges, including the Wairarapa.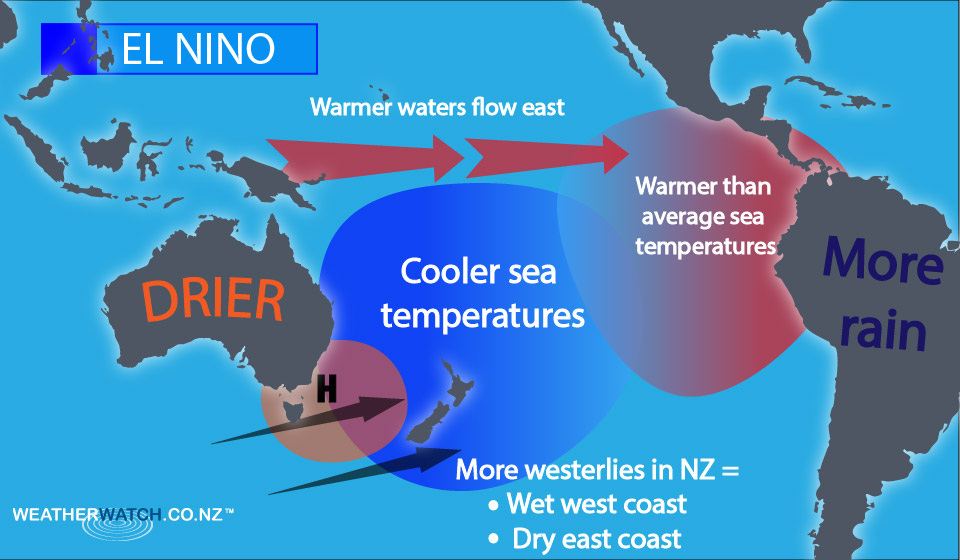 Current situation
Currently the soil moisture and ground water replenishment are still at good levels, after three years of above average rainfall. The national drought index, which is updated daily (see below), shows no hotspots of concern for now. However, September has been a very dry month for the most part.
As our river flows are highly dependent on the short-term rainfall in the catchments, below normal flows or even 'meteorological drought' conditions can manifest relatively quickly, if a more prolonged dry spell were to develop going into the warm season.
Meteorological outlook
International climate models agree that the current El Niño (officially declared on 19 September by the Bureau of Meteorology in Australia) has potential to be strong and impactful.
Currently there is no direct forecast of more imminent dry spells in our region. Long-range models continue to indicate a reasonable rain spread as spring unfolds, albeit mostly below average. With the main atmospheric flow becoming more predominantly westerly as the season unfolds, and the solar radiation becoming stronger, drier conditions are likely to gradually build up east of the ranges. As such, closer monitoring is recommended.
Temperatures are predicted to remain above average overall, although somewhat cooler west of the ranges including Wellington. In response to the global climate drivers, stronger heatwaves will also be more likely over the Wairarapa for the coming warm season.
Climate change
The 'normal' longer-term water balance is becoming increasingly hard to maintain quite possibly due to climate change influences, and increased high frequency climate variability, with more unreliable weather patterns. Droughts are expected to become more severe and frequent in the Wellington region, particularly in the Wairarapa.
Even if international climate policy efforts were to successfully contain global warming under 1.5-2 degrees (the Paris Agreement's ambition), it is important that we enhance our water resilience and be prepared for more unreliable climate patterns with both extreme dry and extreme wet periods. We note that the warming of the land also means that evapotranspiration will greatly increase, so the soil will likely need more ongoing rain to maintain ideal moisture levels, compared to what it has needed in the past.
While the last three years have been incredibly wet thanks to a persistent La Niña, there is some evidence that our soils are getting drier, and groundwater storage may be decreasing, in the long-term.
View the latest national drought index state
View the national drought forecasting dashboard
View the latest seasonal report:
Climate drivers and seasonal outlook for the Wellington Region Autumn 2023 summary Winter 2023 outlook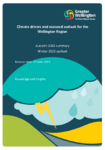 While March and April were relatively uneventful in our region, May was the warmest on record for New Zealand as a whole and for both Wellington and the Wairarapa separately.… Read more here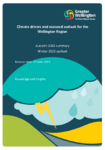 Browse the data
Anomaly Maps
How different has recent rainfall/soil moisture been compared with the same time in previous years?
Site-specific graphs
Cumulative rainfall/soil moisture totals for indicator sites compared with historical averages and other recent years.
---
Get in touch
Phone:

0800496734

Email: