We're building a low emission public transport network to make our region even greater. So we're improving the Metlink network to deliver more frequent and reliable services.
The Wellington Regional Public Transport Plan (RPTP) describes our long-term goals and objectives. It sets out our focus areas and actions that will help us achieve our goals. It also shows what public transport services and Total Mobility we will provide.
Metlink's public transport network connects the Wellington region. We have 4 rail lines, over 90 public bus routes, and 4 harbour ferry stops. Our Total Mobility helps people with impairments to access appropriate transport. The Wellington region has an effective public transport system with high levels of customer satisfaction. The RPTP builds on that base to develop an even better network.
Wellington Regional Public Transport Plan, 2021-31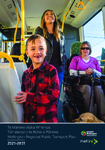 The Wellington Regional Public Transport Plan (RPTP) guides the design and delivery of public transport services, information and infrastructure in the Wellington region. The RPTP has a ten-year strategic focus… Read more here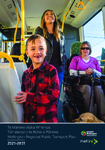 Our priorities
The Plan sets three strategic priorities:
To continue to improve customer experience on public transport across the network
To reduce public transport carbon emissions decarbonising the public transport fleet
To contribute to the regional target of a 40% increase in mode share from public transport and active modes
We held public consultations on the draft plan in February and March 2021. This resulted in over 2,750 written submissions from across the region. The majority of submissions supported these priorities.
The submissions reinforced how important public transport is to our region. It highlighted the importance of equity and the accessibility of public transport.
What we've achieved
Since the last RPTP in 2014, we've made improvements to services and infrastructure. We've also made progress on the electrification of the transport network with 11 EV buses. Our goal is to have 100 EV buses by 2023.
We've made huge upgrades to train stations across the network, with new bus hubs and shelters. We've also conducted seismic strengthening on current shelters.
Planning for the future
Some of our plans include activities and initiatives to:
Provide a high quality, high capacity, high frequency core network
Improve access to public transport
Prioritise safety through continuous improvements to both infrastructure and operations
Promote behaviour change
Accelerate decarbonisation of the Metlink fleet
Explore ways to further decarbonise the Metlink rail fleet
Improve the accessibility of public transport
---
Get in touch
Phone:

0800496734

Email: