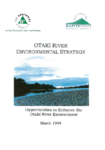 Numerous agencies, community groups and landowners have an interest
or a role to play in the Otaki River and its environs. Each of these parties
has their own objectives for managing, protecting and enhancing the river
environment. Overall co-ordination of their different roles is necessary to
ensure that they are consistent, and to ensure that all opportunities and
priorities for environment are realised.

This Strategy is a first step in providing this overall co-ordination

This strategy is the combined effort of the Wellington Regional Council
and Kapiti Coast District Council. It was developed to help co-ordinate the
activities of the different agencies, community groups and landowners
involved in protecting and improving the river environment.

It sets out recommendations for action beyond those carried out within
normal statutory and operational frameworks. On-going commitments to
these recommendations will ensure continued improvements in the river
environment.