Resource consent application and assessment of effects on the environment: Maintenance of highly modified and natural rivers and streams
Search in document library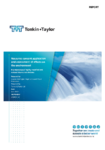 This Assessment of Effects on the Environment (AEE) report has been prepared on behalf of Greater Wellington Regional Council Flood Protection Flood Protection Group to support a resource consent application to authorise the ongoing maintenance of highly modified rivers and streams and natural rivers/streams across the Kāpiti Coast District and the Wairarapa area for flood protection purposes.
These highly modified rivers and streams and natural rivers/streams are collectively described as watercourses throughout this report.
The watercourses that are the subject of this report silt up over time, and the adjacent bank edges and channels become overgrown with weeds and other plants, limiting the hydraulic carrying capacity and overall flood operability of the network. Ongoing maintenance of watercourses is required to ensure that they continue to operate effectively for flood conveyance. Over the duration of this consent, GWRC will seek to reduce the frequency of both mechanical and manual clearance activities through other means, such as increased riparian management.
This report has been prepared in fulfilment of section 88 of the Resource Management Act 1991 (RMA), and in accordance with Tonkin & Taylor Ltd's (T+T) letter of engagement dated 21 October 2021.