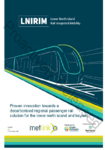 The Lower North Island Rail Integrated Mobility (LNIRIM) project explores options to deliver critical passenger transport services as the aged locomotive-hauled trains of the Wairarapa and Manawatū Lines reach the end of their service lives.

Building on the Initial Business Case (IBC) this Detailed Business Case (DBC) expands the analysis and aims to recommend a preferred option that meets the service needs for accessing social and economic opportunities and maximises value for money, while also providing a safe and environmentally friendly transportation mode
Information contained within the LNIRIM document has been redacted under the Local Government and Official Information Act 1987. Sections 7(2)(b)(ii) and (7)(2)(1) apply in that making available this information may prejudice the commercial position of Greater Wellington and allows Greater Wellington to carry on, without prejudice or disadvantage, negotiations (including commercial and industrial negotiations).