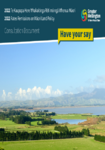 Greater Wellington Regional Council (Greater Wellington) proposes to make changes to the Rates Remissions and Postponements on Māori Freehold Land Policy. This will become known as the Rates Remissions on Māori Land Policy.
Greater Wellington is reviewing the policy following changes to the Local Government Act 2002 and Local Government (Rating) Act 2002 that took effect in July 2021, which included significant changes to the rating of whenua Māori.
The proposed changes to the policy will ensure it is up to date and compliant with the legislation for rating of whenua Māori and the principles of Te Ture Whenua Māori Act 1993, and offer wider support to owners of whenua Māori to look after the whenua for current and future generations.
While this policy particularly affects Māori landowners in the Wellington region, everyone in our community may have an interest and is invited to provide a submission on the proposed changes to the policy.
As part of the review of this policy, Greater Wellington has considered the option of retaining the existing policy and has decided instead to consult on the proposed changes in this document as these better align with Council's strategic priority of improving outcomes for mana whenua and Māori, and with Council's adopted Māori Outcomes Framework.