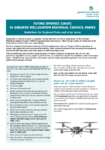 Flying UAVs or drones in parks is a popular activity and there are lots of good places to fly in Greater Wellington Regional Council (GWRC) managed parks and reserves. When flying in parks it's important to fly safely and be aware of the rules about flying.
The New Zealand Civil Aviation Authority (CAA) introduced new rules on 1 August 2015 for operators of drones, also called UAVs (unmanned aerial vehicles), RPAS (remotely piloted aircraft systems) and unmanned aircraft. All UAV operators need to be aware of and follow these rules.
There are different rules for UAVs weighing above or below 25kg, but according to the CAA 'All UAV operations, regardless of size, weight or performance, are required to operate in compliance with Civil Aviation Rules'. Details of the rules and other information such as 'frequently asked questions' are found on the CAA website www.caa.govt.nz/rpas.