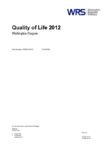 The Quality of Life Project was initiated in response to growing pressures on urban communities, concern about the impacts of urbanisation and the effects of this on the well-being of residents. The key purpose of the project is to provide information to decision-makers to improve the quality of life of New Zealanders. The objectives of the project include:
Consistency of indicator use and monitoring methods
Provision of data to support advocacy on urban issues
Raising the profile of urban issues
Collaborative working to monitor and address quality of life issues
Enabling Councils to develop a consistent set of indicators, identify urban issues and trends, and provide a platform to develop comprehensive responses to these.